Electric Immersion Heaters have internal temperature regulation.
Press Release Summary: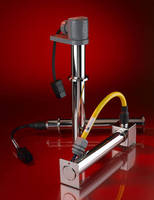 SmartOne(TM) positive temperature coefficient electric immersion heaters utilize solid-state ceramic heating elements as heat source. Maximum temperature is internally limited regardless of operating conditions, whether units are operated in water, air, or surrounded by solids. With maximum output temperature below ignition point of most plastic tanks, products do not overheat even when covered with buildup. Periodic cleaning of buildup minimizes risk of chemical corrosion.
---
Original Press Release:

Process Technology Introduces New Aquaculture Heaters



MENTOR, OHIO - Process Technology, a wet process heating and cooling manufacturer, introduces its new SmartOne(TM) line of PTC (positive temperature coefficient) electric immersion heaters. With this technology, thermal over-temperature protectors are no longer required for safe operation. SmartOne(TM) PTC heaters will not burn out in air like traditional resistance heaters. Unlike resistance heaters, these heaters continue working in high solids applications as well.

A PTC heater utilizes solid state ceramic heating elements as its heat source. These devices are "self-regulating" - the maximum temperature is internally limited regardless of the operating conditions. Therefore, these heaters have a built-in safety not previously available in electric immersion heaters. Traditional resistance heaters have the potential for a runaway heat condition if operated out of water, but a PTC heater can self limit its maximum temperature regardless if operated in water, air, or completely surrounded by solids.

If the temperature goes down, so does the resistance (thereby increasing power output). If the heat transfer is impeded, as would happen when i.e. operating in air, the temperature will increase (as will the resistance) resulting in reduced power output. This concept is similar to technologies used in car seat warmers or hair dryers - a unit can only reach a predetermined maximum temperature before it turns itself down.

In the aquaculture industry, a common threat to heater life is buildup in waters with dense solids resulting in overheat conditions. These conditions will not cause the SmartOne(TM) to overheat. The maximum output temperature is below the ignition point of most plastic tanks, so overheat damage is prevented if the element is operated in air or becomes covered with buildup. (Please note: periodic cleaning is still recommended since buildup can increase the rate of chemical corrosion of any heater.)

Process Technology, established in 1978, is a manufacturer of electric immersion heaters, heat exchangers, in-line heaters and temperature and level controls serving a variety of industries including aquaculture, semiconductor, metal finishing, printed circuit board, cleaning technologies, MEMS, FPD and photovoltaic.

For further information regarding this product, please contact Steve Smith, Vice President of Sales and Marketing, at 440-974-1300 or via email at ssmith@process-technology.com. For further editorial information, please contact Christine L. Venaleck, Director of Advertising, at 440-974-1300 or e-mail at cvenaleck@process-technology.com.

More from Communication Systems & Equipment