Electric Heaters provide uniform temps for PV cell processing.
Press Release Summary: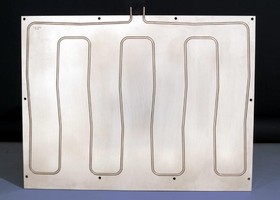 Suited for TCO, PVD, and lamination applications, Interference Fit Construction Heaters (IFC) can be produced in single sheets or array of small heaters to achieve dimensions of larger than 47.24 x 55.11 in. with process heater temperatures greater 1,022ºF. They can also be designed with aluminum and SS heater plates for process temperatures up to 750° and 1,200ºF, respectively. IFCs can be used in atmospheric or vacuum environments, preventing outgassing and contamination.
---
Original Press Release:

Interference Fit Construction Heaters (IFC) from Watlow® Improve Temperature Uniformity in Photovoltaic Processing Equipment



Sept. 8, 2008

St. Louis - Watlow®, a designer and manufacturer of electric heaters, controllers and temperature sensors, introduces Interference Fit Construction Heaters (IFC) developed to address the photovoltaic (PV) industry's transition to processing PV cell's large substrates. The IFC heater helps improve yield while reducing costs in transparent conducting oxide (TCO), physical vapor deposition (PVD), lamination and other applications where large heated surfaces are required.

The IFC technology uses a proprietary process where it inserts a tubular style heater into an undersized mill groove pattern. This process provides repeatable thermal performance while improving reliability of the entire heated plate by eliminating potential hot or cold spots.

IFC heaters can be produced in single sheets or an array of small heaters to achieve dimensions of larger than 1200 x 1400 mm (47.24 x 55.11 inches) with process heater temperatures greater than 550 ºC (1022ºF). They can also be designed with aluminum heater plates for process temperatures up to 400°C (750ºF) and with stainless steel for process temperatures up to 650°C (1200ºF). Watlow's IFC heaters can be used in atmospheric or vacuum environments preventing outgassing and contamination.

Watlow's thermal engineering expertise, combined with advanced computation analysis tools, produce heater designs at reduced times and costs. These custom heater patterns reduce the effect of edge losses and increase the temperature uniformity of the entire heater.

About Watlow Since the company's founding in 1922, Watlow has brought its thermal expertise to numerous applications including semiconductor, photovoltaic, analytical, medical, clinical, plastics processing, foodservice equipment, packaging, aerospace and others. Headquartered in St. Louis, Missouri, Watlow is the largest custom designer and manufacturer of industrial heaters, sensors, controllers and software with offices and manufacturing facilities around the world.

For additional information call the nearest Watlow representative:
Watlow
Phone: 1+ (800) WATLOW2, 1+ (314) 878-4600
Fax: 1+ (877) 893-1005, 1+ (314) 878-6814
Internet: www.watlow.com
E-mail: info@watlow.com

For more information, contact:

NA: Steve Richardson, (314) 367-7359,
steve.richardson2@sbcglobal.net

EUR: Nathalie Klak, +49-7253-9400-234
nklak@watlow.com

ASIA: Hazel Tan, 011-65-6773 9461
htan@watlow.com