Electric Chain Hoist comes in 2-ton, single-reeved model.
Press Release Summary: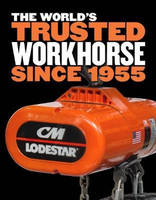 Available as 2-ton, single-reeved unit for industrial lifting applications, CM Lodestar® features 10 mm, zinc-plated Star Grade load chain. Design, in addition to preventing lower hook block from capsizing and damaging hoist, facilitates access to key components for inspection and repairs. While 5-pocket lift wheel maximizes chain engagement, clutch located outside of load path prevents overload conditions. Engineered for high duty cycles, this electric chain hoist exceeds H4 requirements.
---
Original Press Release:

CM Lodestar® Electric Chain Hoist Now Offered as Economical 2-Ton, Single-Reeved Unit



Ideal for industrial lifting applications and made in America by Columbus McKinnon



AMHERST, N.Y. -- Iconic in name and legendary in performance, the CM Lodestar® electric chain hoist is now available as an economical 2-ton, single-reeved unit. Made in America by Columbus McKinnon Corporation (NASDAQ: CMCO), a leading designer, manufacturer and marketer of material handling products, the CM Lodestar is a lifting powerhouse well suited to a variety of industrial applications.



The new 2-ton, single-reeved Lodestar features 10 millimeter, zinc-plated Star Grade load chain that is designed and manufactured in the USA by Columbus McKinnon. And, because it's a single-reeved unit, the design prevents the lower hook block from capsizing and damaging the hoist.



The Lodestar electric chain hoist is known for reliable operation throughout its long service life. It requires less maintenance and allows for easy access to key components for inspection and repairs. The Lodestar features a 5-pocket lift wheel for better chain engagement, as well as a clutch located outside of the load path to prevent overload conditions. It also exceeds H4 requirements and is engineered for high duty cycles.



Two-ton, single-reeved Lodestar units are also available for the entertainment marketplace.



For more information on the 2-ton, single-reeved Lodestar and our full Lodestar offering, visit our website at www.cmworks.com or contact CMCO Customer Service at 800-888-0985.



About Columbus McKinnon

Celebrating its 140(th) anniversary, Columbus McKinnon is a leading worldwide designer, manufacturer and marketer of material handling products, systems and services, which efficiently and ergonomically move, lift, position and secure materials. Key products include hoists, cranes, actuators and rigging tools. The Company is focused on commercial and industrial applications that require the safety and quality provided by its superior design and engineering know-how. Comprehensive information on Columbus McKinnon is available on its website at http://www.cmworks.com



CONTACT: Gary Krypel, Marketing Communications Manager, Columbus McKinnon Corporation, 716-689-5563, gary.krypel@cmworks.com

More from Software