Electric Breaker features fatigue-reducing design.
Press Release Summary: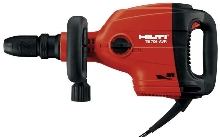 Designed for wall or floor applications, TE 706-AVR Breaker incorporates brushless SR-motor, active vibration reduction system, and 3-level hammering power regulation. Control electronics provide continuous motor power, even during voltage fluctuations, and air flows over areas of motor, electronics, and hammering mechanism to keep tool and casing cool. Self-sharpening polygon chisels are offered in pointed, flat, and wide-flat versions.
---
Original Press Release:

Hilti TE 706-AVR Makes Chiseling on Walls & Floors Easy


New Breaker Offers Exceptional Performance, Reduces Fatigue

TULSA, Okla. - June 17, 2005 - Because long periods of hard chiseling can be strenuous on the operator, Hilti introduces its newest breakthrough, which offers exceptionally high chiseling performance while greatly reducing fatigue - the Hilti TE 706-AVR Breaker.

The first in its class to feature a state-of-the-art brushless SR-motor and an Active Vibration Reduction (AVR) system, the lightweight TE 706-AVR Breaker takes the effort out of chiseling when working on wall or floor applications. This versatile breaker also features a three-level hammering power regulation for a wide variety of applications.

The TE 706-AVR's brushless motor technology eliminates wear-prone parts to give this breaker an expected life of twice its predecessor, the TE 705. A truly reliable and durable electric breaker, the TE 706-AVR requires no carbon brush replacement, so intervals between servicings are longer. The breaker's control electronics provide continuous high motor power, even during voltage fluctuations. To increase the tool's life expectancy and reliability, as well as the operator's working comfort, cool air flows over large areas of the motor, electronics and hammering mechanism to keep the tool and its casing cool.

To further improve the operator's working comfort, the TE 706-AVR features the Hilti Active Vibration Reduction system, which reduces the hammering mechanism's vibration by up to 50 percent. This lessens the strain on the operator's hands and arms for increased jobsite productivity.

Hilti stands behind the TE 706-AVR with its Two Year Full Service Program, which includes shipping, maintenance service, repair and replacement of all worn or defective parts, functional testing and adjustment and safety check after any repair.*

Available in pointed, flat and wide-flat versions, the Hilti Self-Sharpening Polygon Chisels also ensure maximum productivity and efficiency by eliminating the need to resharpen, reforge and reharden the chisel. By providing consistently high chiseling performance over their lifetime, these chisels also achieve a better breaking effect and greatly reduce the tendency to stick while chiseling. The new design of the flat and wide-flat versions features a longer blade for longer life and thanks to use of high-grade materials and the latest manufacturing techniques, the risk of breakage is minimal.

For more information on the TE 706-AVR and other Hilti demolition systems, please contact Hilti Customer Service at 1-800-950-6654 or visit our Web site at www.us.hilti.com.

* Some limitations apply. See Hilti for details.

About Hilti, Inc.

Hilti is a world-leading manufacturer and supplier of quality, innovative and specialized tools and fastening systems for the professional user. With more than 800 highly trained Hilti account managers and engineers throughout North America and an additional 1,300 Hilti employees nationwide, Hilti expertise covers the areas of powder-actuated fastening, drilling and demolition, diamond coring and cutting, measuring, firestopping, screw fastening, adhesive and mechanical anchoring, and strut and hanger systems.

More from Software