Electric Bolt Lock features anti-tamper construction.
Press Release Summary: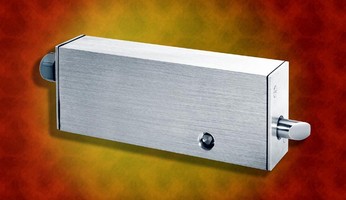 Suited for outdoor use, Shotbolt type 62/63 self-contained electric bolt lock is manufactured with 15 mm SS bolt with brushed aluminum finish body. Compact, heavy-duty, and weatherproof unit is suited for fail-safe or fail secure applications and is equipped with manual override feature, which is operated with triangular Euro-key. Available for range of supply voltages, it is fitted with positive break or snap-action bolt position switch and can be front or base mounted.
---
Original Press Release:

Magnet Schultz New Electric Shotbolt Lock Protects against Water and Dust



11th September 08

Already renowned for its innovative shotbolt product lines, Magnet Schultz Ltd, market leader in the manufacturer of specialist solenoid actuators and mechanisms, has launched the Shotbolt type 62/63, a new electric bolt lock. The type 62/63 shotbolt has been specifically produced to meet the demand for self-contained locking solutions. The anti-tamper construction has been designed for high performance and weatherproofed for outdoor use.

Manufactured with a 15mm stainless steel bolt with an attractive brushed aluminium finish body, the compact, heavy-duty Bolt-lock is suitable for fail-safe or fail secure applications and is equipped with a manual override feature, which is operated with a triangular Euro-key. The enclosed weatherproof construction ensures that the lock protects against water and dust ingress whilst the long life IGUS and DU bearings guarantee the lock is maintenance free.

Ideal for a range of locking and interlocking access control applications such as gates, doors, turnstiles, shutters and grills, the type 62/63 Shotbolt is also suitable for machine guarding and safety locking. The new shotbolt lock will prove of interest to cross-section of manufacturers producing a wide range of products including safety gates, security vehicles, turnstiles and security doors, shutters and grills.

Extremely sturdy, the type 62/63 Shotbolt is equipped with a robust mounting, 14mm stroke and integral spring return. Secure electrical termination is achieved through a robust cable, the length of which can be specified by the user.

Available for a range of supply voltages, the Electric Bolt-lock is fitted with a positive break or snap-action bolt position switch and can be front or base mounted. Magnet Schultz is able to advise on any applications and can also supply a complete assembly incorporating the Shotbolt type 62/63.

The type 62/63 Shotbolt is a further innovation from Magnet Schultz Ltd, a leading solenoid specialist since 1967. Working closely with its parent company in Germany and five manufacturing plants throughout Europe and the United States, Magnet Schultz Ltd has developed a reputation for technical know-how and expertise. Using solenoid technology, the company focuses on providing top quality engineering solutions for a spectrum of applications. It aims to provide the highest possible level of technical performance, whether supplying a bare solenoid or manufacturing a complex assembly.

Magnet Schultz Ltd. (previously Emessem Solenoid Co Ltd), 3-4 Capital Park, High Street, Old Woking, Surrey GU22 9LD, UK Tel: +44 1483 794700 Fax: +44 1483 757298 email: sales@magnetschultz.co.uk

Web: www.magnetschultz.co.uk

More from Computer Hardware & Peripherals