Electric Assembly Screwdrivers suit low torque applications.
Press Release Summary: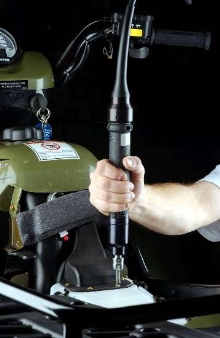 Offered in straight, push-to-start, and angle screwdriver models, Series QPM can tighten from as low as 0.6-10 Nm with speed ratings to 2,500 rpm. All models weigh less than 2 lb and are less than 12 in. long. Fastening status LEDs, visible from either side of tools, signal operator about assembly quality from pre-selected limits. Screwdrivers feature integral joint inspection with data collection, analysis, reporting, and error proofing.
---
Original Press Release:

Stanley Expands Its Innovative QPM DC Electric Assembly Tool Line With Small And Flexible Screwdrivers For Lower Torque Applications


February 1, 2005
Stanley Assembly Technologies announces the expansion of its innovative QPM DC Electric torque control assembly tools with lower torque models that expand the range of this proven platform. Straight, push-to-start and angle screwdriver models can tighten from as low as 0.6 Nm to 18 Nm. Speed ratings range to 2500 RPM.

o All models weigh less than 2 pounds (1 kg) and are less than 12" long (30 cm).
o Push-to-start models include headlights.
o Fastening status LEDs, visible from either side of the tool, signal the operator about assembly quality from pre-selected limits.
o A center button suitable for right or left hand use can function either as a reverse switch or change the assembly settings for a different fastener.
o Long life lightweight cables easily disconnect from the tool.
o A rubber grip option improves operator ergonomics and tool handling.

"The new QPM screwdrivers offer clean, quiet and ergonomic fastening for lower torque applications.

Other benefits of QPM fastening systems include integral joint inspection with data collection, analysis, reporting and error proofing. Error proofing verifies that the correct number of fasteners is installed to specification," noted Doug Versele, Global Product Manager, Stanley Assembly Technologies.

Other QPM models include angle, straight, hold and drive, crowfoot, tubenut and fixtured tools with rated torques from 2 to 2,000 Nm. QPM assembly systems can interface in many ways to manufacturing systems for tool programming and data management.

For additional information, contact Stanley Assembly Technologies at 877-709-8006 or visit www.StanleyAssembly.com. Stanley Assembly Technologies provides solutions to the global assembly market, including the motor vehicle industry. Core solutions include high-performance Stanley® DC electric
and pneumatic tightening tools and controllers, conventional pneumatic articulating arms, torque tubes and Cobotics(TM) Intelligent Assist Devices for ergonomic material handling.

The Stanley Works (NYSE: "SWK") is a worldwide supplier of consumer products, industrial tools and security
solutions for professional, industrial and consumer use. Consumer products include hand tools, mechanics tools,
tool storage, and hardware. Industrial tools include fastening systems, auto assembly tools, storage systems, professional laser measuring and leveling tools and hydraulic attachments. Security Solutions includes the integration and supplying of security systems and access control solutions, including automatic door and locking systems for commercial applications.

Our innovative Consumer and Industrial products help people utilize their skills, express their creativity and realize
their visions on work sites around the globe. Brand names include Stanley®, Husky®, Cobotics(TM), Goldblatt®, Bostitch®, Jensen®, Mac®, Proto®, LaBounty®, Vidmar®, CST®, David White® and Zag®. Our Security Solutions brands include Stanley®, Best®, Blick® and Frisco Bay®.

More from Architectural & Civil Engineering Products