Electric Actuators achieve max push force of 6,000 N.
Press Release Summary: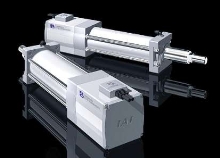 Incorporating ballscrew, linear guide, and stepper motor, Series RCP2-RFA/RFW Thrust Type Robo Cylinders provide push force levels of 1,500, 3,000, or 6,000 N. Six different strokes may be selected within 50-300 mm range. Max horizontal load capacity is 300 kg, and max vertical load capacity is 150 kg with 2.5 lead. Suited for motorized presses and press-fitting systems, units perform up to 64-point positioning with repeatability held to ±0.02 mm.
---
Original Press Release:

IAI America, Inc. Adds High Thrust Type to Its Line Of RCP2 Robo Cylinders


Itasca, IL - (July 18, 2005) With the addition of its High Thrust Type Robo Cylinder, IAI America, Inc. continues to be a powerful industry force. The RCP2-RFA/RFW Thrust Type Robo Cylinder achieves a maximum push force of 6000N - more than seven times the maximum push force (800N) of a conventional model. Operators have a choice of three push force levels: 1500, 3000 and 6000. With this High Thrust version, six levels of stroke may be selected within a 50 to 300 mm range. Maximum horizontal load capacity is 300 kg; vertical is 150 kg (with a 2.5 lead).

The RCP2-RFA and The RCP2-RFW are ideal for use in motorized presses, as well as press-fitting systems. The RCP2-RFW is specially designed to be dust- and water-resistant.

Boasting high accuracy and rigidity, IAI RCP2 Series Robo Cylinders are electric actuators featuring a ballscrew, a linear guide and a stepper motor. Operation advantages include reduced noise, and improved ease of use and ease of maintenance. For precision and easy operation, RCP2 controllers perform up to 64-point positioning and enable complex movements. Speeds can be changed during slider/rod movement; positioning repeatability is held to ±0.02mm. IAI's compact controller 35(W) x 163(H) x 68.1(D) also saves installation space.

The RCP2-RFA/RFW features a 100mm body width. Like all RCP2 types, its ultra-thin head (35mm) can reduce the overall size of your equipment.

The RCP2 Series, and all IAI Robo Cylinders, cost 67% less to operate compared to air cylinders. Because the Robo Cylinder is an electric actuator, relative power consumption is about 1/3 compared to the power required to operate an air cylinder.

The RCP2 line was developed based on IAI's Total Cost Approach. The company's efficient production facility and low inventory reduce costs from manufacturing to delivery. The results of the approach are reflected in its affordable pricing.

IAI's RCP2 line is ISO 9001 certified.

For more information, visit www.intelligentactuator.com, or contact IAI America, Inc., 1261 Hamilton Parkway, Itasca, IL 60143, (800) 944-0333, Fax: (630) 467-9912, E-mail: info@iaius.com.