Electra FL 3015 8kW Fiber Laser Cutting Machine comes with intuitive touch-L control.
Press Release Summary: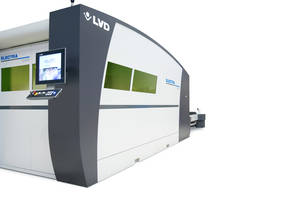 Electra FL 3015 8kW Fiber Laser Cutting Machine offers smooth lead-in feature which enables user to cut thick materials greater than ¼", 6 mm. Unit provides automatic adjustment of focus position and focus diameter and uses a linear drive system. Product comes in mono-frame construction and features 19 in. touch screen graphical interface. Electra FL 3015 features icon-driven user interfaces and is suitable for ferrous and non-ferrous materials.
---
Original Press Release:
LVD Strippit Introduces New 8KW Electra Fiber Laser
LVD Strippit announces the launch of the Electra FL 3015 8kW fiber laser cutting machine. The ultra-high-speed Electra cuts a wide range of ferrous and non-ferrous materials as fast as the thermal process allows without dynamic compromise. The Electra 8kW can maintain 2G acceleration speed while cutting, producing high quality, high accuracy cuts in simple to complex configurations. The Electra FL also features a new cutting head, new "smooth lead-in" feature, advanced drive system and the latest generation of LVD Strippit's intuitive Touch-L control.
ZOOM CUTTING HEAD
Electra is equipped with an advanced cutting head featuring automated adjustment of focus position and focus diameter (zoom focus). Zoom focus control can dramatically improve piercing times, cutting speeds and cut performance in all material types and thicknesses, increase throughput and reduce the need for operator intervention. The ability to change the focal point allows Electra to pierce 20mm material in just two seconds for significant productivity on fully nested sheets. This also means that less heat is generated in the material, making it more efficient to cut small holes.
SMOOTH LEAD-IN
Electra's new "smooth lead-in" feature guarantees a much faster but stable lead-in after fast piercing when cutting thicker material (greater than ¼", 6 mm) with Nitrogen, resulting in an average gain of up to 15% on part cutting times.
LINEAR DRIVE SYSTEM
The Electra uses a linear drive system to harness the full benefits of the higher power cutting capability of the 8kW fiber laser. Electra's high cutting dynamics and rapid acceleration achieve high part output. The machine's rigid frame design ensures that cutting performance is reliable at top cutting speeds. The rigidity of the mono-frame construction also means no foundation is required.
HIGH EFFICIENCY
The Electra's laser source has a high wall plug efficiency of up to 40%, offering savings in electrical operating costs.
INTUITIVE CONTROL
The Electra features the latest generation of LVD Strippit's 19" Touch screen graphical interface, making the system easy to operate for virtually any level of user. An icon-driven user interface guides the user through all necessary man-machine interactions, making machine setup fast and uncomplicated.
MODULAR AUTOMATION
Electra offers two levels of automation: An automated load/unload system designed to keep pace with Electra's high cutting speed (FA-L), or a Compact Tower (CT-L), offering full capabilities for loading, unloading and storage of raw materials and finished parts.
ABOUT LVD
LVD is a leading manufacturer of sheet metalworking equipment, including laser cutting systems, punch presses, press brakes, guillotine shears and mid-level automation systems, integrated to and supported by its CADMAN® software suite. LVD Industry 4.0-ready products and technology make smart manufacturing possible.
Website: www.lvdgroup.com
Related