Elecsys to Feature StratEdge High-performance Semiconductor Packages at IEEE COMCAS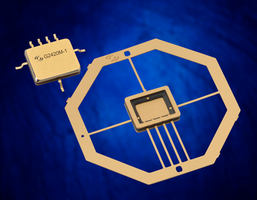 StratEdge Corporation, leader in the design and production of high performance semiconductor packages for microwave, millimeter-wave, and high speed digital devices, announces that its packages for high-frequency and very high power devices will be featured by Elecsys, LLC at IEEE COMCAS, November 13-15, 2017 in Tel Aviv, Israel. In addition to StratEdge products, Elecsys will be showing J Microtechnology's probe stations, M-Pulse Microwave's transistors and diodes, and Microwave Components' wire wound inductors. Both companies will be in booth #19 with their Israeli representative F.E.M.C. Communications Ltd.
On display will be StratEdge's new packages for Gallium Arsenide (GaAs) and Gallium Nitride (GaN) devices. These include the newly expanded LL family of high-power laminate copper-moly-copper (CMC) base packages that include both GaN transistor and MMIC device packages and StratEdge's new off-the-shelf line of molded ceramic packages that can be configured to meet the requirements for chips with frequencies up to 18 GHz, including GaN devices.
"We're excited to be attending our first trade show in Israel, where we've had customers for over 20 years," said Tim Going, StratEdge president. "Our products are focused on the semiconductor packaging and microwave products segments of the high reliability electronics industry, which is a high growth area in Israel."
Elecsys, LLC is a world-wide distributor of semiconductor manufacturing materials, microwave components, ceramic packages and components, and test and measurement instrumentation. F.E.M.C. Communications Ltd. provides commercial and defense high tech companies with the services required to position, launch, market, and sell products on the global marketplace.
IEEE COMCAS 2017, the International Conference on Microwaves, Communications, Antennas and Electronic Systems, is being held at the David Intercontinental Hotel, Tel Aviv, Israel.
For more information, contact StratEdge at info@stratedge.com, shop at the StratEdge store on Amazon.com, sign up for the StratEdge newsletter, and/or visit our new website at www.stratedge.com.
About StratEdge
StratEdge designs and manufactures high-performance semiconductor packages and provides chip assembly and test services. We specialize in packages for high-frequency, very high power, extremely demanding Gallium Arsenide (GaAs) and Gallium Nitride (GaN) devices and have a complete line of post-fired and molded ceramic semiconductor packages that operate from DC to 63+ GHz. Our patented electrical transition designs give StratEdge packages exceptionally low electrical losses, even at 63+ GHz. Markets served include telecom, mixed signal, VSAT, broadband wireless, satellite, military, test and measurement, automotive, and MEMS. StratEdge is an ISO 9001:2008 facility.
Related