Efficiently Separating Algae at a Water Treatment Plant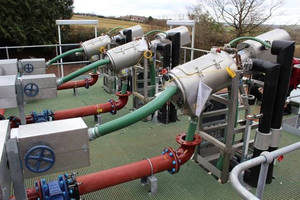 Seeking a more efficient algae removal process from backwash water, a water supplier contacted Russell Finex, global sieving and filtration specialists.  Following a consultation and on-site trial, it was determined that the Liquid Solid Separator™ was the most appropriate machine for the application.



Screening at 100 micron, the Liquid Solid Separators are put into action when algae levels in the backwash water are above 40,000 cells per millimetre. In order to ensure there is no algae break up in the water, the Liquid Solid Separators are tilted at an angle to ensure the correct dryness of algae as it is discharged from the Liquid Solid Separator into the waste collection bin. With its unique screening action, the Liquid Solid Separator™ keeps the filtration mesh clear of oversize particles, thereby maximizing liquid flow. As a key requirement was for the system to be self-cleaning, spray bars were also installed to back wash the mesh in situ to further ensure the mesh is kept clear at all times.