EF-Series Micro Drills feature micro face point and flute geometry.
Press Release Summary: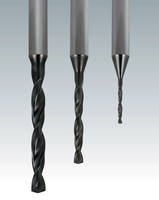 EF-Series Micro Drills are available from 0.75 mm up to 3.0 mm in diameter. Suitable for producing small deep holes in steel, cast iron, stainless steels and non-ferrous materials, units come with TiALN T99 multi-layer PVD coating for heat and wear resistance. Drills come with double margin design for providing stable and superior hole surface finishing.
---
Original Press Release:
Emuge Introduces New Solid Carbide Coolant-Fed Micro Drills.
Emuge Corp. (www.emuge.com) announced it has expanded its EF-Series of high penetration rate drills with a new line of sub-micro grain carbide coolant-fed micro drills. The EF High Performance Micro Drills range from 0.0295 in. (0.75 mm) up to 0.1181 in. (3.0 mm) in diameter, are all coolant through design, and are ideal for aerospace, medical and precision automotive applications designed for producing very small deep holes in steel, cast iron, stainless steels and non-ferrous materials. All tools are 6xD length and can accommodate most production applications.
The unique face geometry of the EF Micro Drills generates short chips in the drill operation, ensuring high drill hole accuracy. The micro face point and flute geometry, in addition to the coolant-fed design enable excellent chip evacuation for the highest possible drilling speed, while reducing the need for peck cycles or clearing chips. The drills have a TiALN T99 multi-layer PVD coating designed for added heat and wear resistance. This significantly reduces built-up edges and edge chipping, substantially increasing tool life. In addition, the large central tool shank channel guarantees maximum coolant intake capacity, allowing optimal coolant transfer.
The internal coolant supply enables economically efficient, high performance machining down to even the smallest drilling diameter of 0.75 mm. Drills also feature a double margin design for added stability and superior hole surface finish.
Emuge EF Series Drills are the result of extensive research and development and incorporate special geometry, proprietary carbide grades and a PVD coating design that is unique to the industry. The result is three to five times faster penetration rate than conventional carbide and cobalt drills, in addition to exceptional, high quality threads and longer tool life.
Emuge Corp. is a wholly owned subsidiary of the 1,500+ employee German company EMUGE-Werk Richard Glimpel GmbH & Co. KG (Lauf, Germany) that has been the product technology and performance leader in their field for nearly 100 years. The company manufactures an extensive line of taps, thread mills, drills, end mills, toolholders, clamping devices and other rotary cutting tools, over 100,000 items sold through distributors worldwide. Emuge also offers end-user technical support through a network of in-the-field engineers and in-house product specialists, all with extensive tooling and application experience.
Over 10,000 types of cutting tools and accessories are stocked in the company's U.S. and Canadian Headquarters located in West Boylston, MA, U.S.A. The 21,000 square foot state-of-the-art facility includes a new technology center with a machining and tooling demonstration showroom and classroom, tool reconditioning manufacturing, warehouse, sales, support and administrative offices.
For more information on Emuge products.
Technical Contact:
Marlon Blandon
Emuge Corp.
1800 Century Drive
West Boylston, MA 01583-2121
Tel. 800-323-3013
Internet: www.emuge.com.
More from Transportation Industry Products