Edwards SAPIEN 3 TAVR Receives FDA Approval For Low-Risk Patients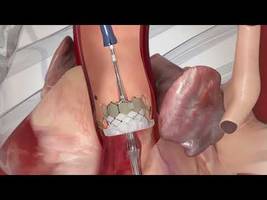 Superior TAVR Valve Available for All Patients Diagnosed with Severe, Symptomatic Aortic Stenosis
IRVINE, Calif., Aug. 16, 2019 /PRNewswire/ -- Edwards Lifesciences Corporation (NYSE: EW), the global leader in patient-focused innovations for structural heart disease and critical care monitoring, today announced U.S. Food and Drug Administration (FDA) approval to expand use of the Edwards SAPIEN 3 and SAPIEN 3 Ultra transcatheter heart valve systems to the treatment of severe, symptomatic aortic stenosis (AS) patients who are determined to be at low risk of open-heart surgery.
"The PARTNER 3 Trial demonstrated that low-risk patients treated with the SAPIEN 3 TAVR experienced extraordinary outcomes with 1.0 percent rates of death or disabling stroke at one year, a short length of stay and 96 percent discharged to home or self-care. SAPIEN 3 is the only valve to achieve superiority over surgery based on the prespecified primary endpoint," said Martin B. Leon, M.D., director of the Center for Interventional Vascular Therapy at NewYork-Presbyterian/Columbia University Medical Center and professor of medicine at the Columbia University College of Physicians and Surgeons. "Today's FDA approval of SAPIEN 3 TAVR will expand access to this proven therapy, which should be considered the preferred treatment for the majority of low-risk severe AS patients." Leon is the national co-principal investigator of the PARTNER 3 Trial.
The SAPIEN 3 TAVR's low-risk approval was based on data from the landmark PARTNER 3 Trial, an independently evaluated, randomized clinical trial comparing outcomes between TAVR and open-heart surgery. TAVR with the SAPIEN 3 system achieved superiority, with a 46 percent reduction in the event rate for the primary endpoint of the trial, which was a composite of all-cause mortality, all stroke and rehospitalization at one year. The data were presented in March at the American College of Cardiology's 68th Annual Scientific Session and simultaneously published in the New England Journal of Medicine.
"Severe AS is a debilitating disease that often goes undiagnosed and is undertreated," said Larry L. Wood, Edwards' corporate vice president, transcatheter aortic valve replacement. "This approval is a significant milestone and will allow all patients diagnosed with severe AS to be considered for TAVR based on their individual preferences and anatomical considerations versus traditional risk scoring."
The SAPIEN family of transcatheter heart valves have treated hundreds of thousands of patients worldwide since 2007, when the SAPIEN valve was first commercially approved in Europe. The SAPIEN 3 TAVR system builds on Edwards' decades of experience in the development of tissue heart valves, and the proven benefits of the Edwards SAPIEN valves. This low-risk approval covers the SAPIEN 3 and SAPIEN 3 Ultra valves in all sizes.
About Edwards Lifesciences
Edwards Lifesciences, based in Irvine, Calif., is the global leader in patient-focused medical innovations for structural heart disease and critical care monitoring. Driven by a passion to help patients, the company collaborates with the world's leading clinicians and researchers to address unmet healthcare needs, working to improve patient outcomes and enhance lives. For more information, visit www.Edwards.com and follow us on Twitter @EdwardsLifesci.
CONTACT: Media, Heather Bukant, +1-949-250-5070, or Investors, Mark Wilterding, +1-949-250-6826, both of Edwards Lifesciences Corporation
Related