EDR+ Passes Important Testing Milestone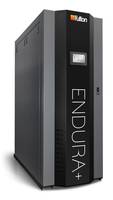 Boiler Runs Flawlessly for over Two Decades of Simulated Operation
Pulaski, NY — July 13, 2018 — Fulton Heating Solution, Inc., is proud to announce the latest milestone in reliability and durability testing for its game-changing condensing boiler line, the Endura+ (EDR+).
In laboratory testing, an EDR+ 3000 recently surpassed 155,000 ignition cycles – running flawlessly through more than 20 years' worth of ignition events. Fulton believes that this method of reliability and durability testing is unique to the industry, and sets a new benchmark for boiler reliability and durability validation.
Conditions during the testing cycle included sealed combustion to vary inlet air temperature and connection to a pump skid to create variances in water temperature. Gas pressure was also modulated to create a wide range in supply pressures. In aggregate, the regularly altered testing variables simulated a range of installation environments.
Said Tom Tighe, Senior R&D Systems Engineer, "We put an EDR+ 3000 through a series of tests designed to make sure it maintained performance through all running conditions – against more than 20 years' worth of wear and tear – and it met or exceeded all our milestones and expectations for reliability and durability."
While many popular commercial heating products have common lifespans of less than 10 years, Fulton believes – with good reason, based on real data – that the EDR+ will cause a paradigm shift within the commercial heating industry.
To learn more about the Endura+ product line, please visit www.fulton.com/plus
Fulton Heating Solutions, Inc.
Fulton Heating Solutions, Inc., is a global manufacturer of hydronic heat transfer equipment. Backed by over 30 years of research, innovation and experience, Fulton Heating Solutions is a premier provider of high-efficiency condensing boiler products suitable for a range of heating applications. With its tradition of success, the company remains focused on the Fulton mission to improve life through heat transfer solutions. For additional information about Fulton Heating Solutions, Inc., please visit www.fulton.com.
MEDIA CONTACT:
Mark Banick 
Fulton Management Services, Inc.
(315) 298-7182
Mark.Banick@fulton-management.com
Contact This Company Download Spec Sheet
More from HVAC