EDM Machines feature unified control system.
Press Release Summary: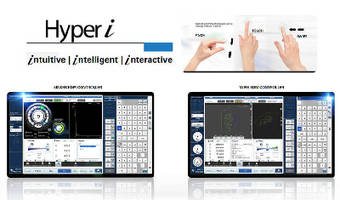 Available on wire EDM, sinker EDM, and EDM hole drilling machines, Hyper-i Control features standardized design that enables operators to learn, adapt, and alternate between different machine platforms. Control utilizes interface technologies used by smart phones and tablets, including pinch, swipe, and spread gestures. Cutting cycle times in EDM processes, HyperCut technology achieves fine surface finishes of 16 µinRa with just 3-pass machining (1 rough, 2 skim cuts) using standard brass wire.
---
Original Press Release:

Makino Rolls Out Hyper Technologies to Full EDM Product Line



Unified control software boosts performance, reduces cycle time, streamlines machine operation



Auburn Hills, Mich. -- Makino announced today that its suite of Hyper Technologies, previously introduced for U-Series wire EDM machines, is now rolling out to the company's full line of wire EDM, sinker EDM and EDM hole drilling machines. In addition to providing improved performance, cycle times and machine operation, the standardization of Hyper Technologies across Makino's full line of EDM machines enables operators to learn, adapt and alternate between different EDM machine platforms and applications with speed and ease.



"In today's manufacturing environment, maintaining superior machine productivity and part quality is critical," said Brian Pfluger, EDM Product Line Manager at Makino. "Our new Hyper Technologies support these priorities and completely revolutionize the EDM machining process. The Hyper-i control significantly boosts user-friendliness and efficiency on both wire and sinker EDM machines, while HyperCut technology reduces cycle time and delivers exceptional surface finishes and accuracy."



Hyper-i Control

The unified Hyper-i control system improves the interface between operator and machine by providing the same streamlined operation to both wire EDM and sinker EDM machines. While most wire and sinker EDM machines use different interfaces that require operators to learn separate control standards, the uniform Hyper-i control systems allow operators to more easily transition from one machine to the next and efficiently process work for any EDM application.



Designed to achieve new levels of user-friendliness, the Hyper-i control utilizes the most current interface technologies used by smart phones and tablets, including features like pinch, swipe and spread gestures that enable a more intuitive and efficient experience for the operator. Integration of on-board digital manuals, intelligent help functions, and e-Learning training system further enhance user friendliness for operators of any skill level.



The Hyper-i control also boasts intelligent functions like EZCut, which allows the operator to change machining speed with a convenient slide bar; an ECO Mode that enables energy reduction during machine idle state; and automatic creation of machine utilization charts to help measure and assess operational efficiency. The Hyper-i control provides added flexibility by allowing customization of the entire interface to accommodate operator preferences or to tailor functions for different skillsets.   



HyperCut Technology

As the second member of the Hyper Technology family, Makino's new HyperCut Technology addresses the most demanding needs of any industry and reduces cycle times in EDM processes while lowering wire consumption or electrode requirements.



In wire EDM processes, HyperCut technology cuts faster while using less wire, and reduces the total number of machining passes while achieving excellent part straightness, accuracy and superior surface finishes in even the tallest workpiece applications. Designed for use in both good-flushing and poor-flushing conditions in different wire sizes, HyperCut provides competitive flexibility to all applications.  Unique to wire EDM, HyperCut technology achieves fine surface finishes of 3µmRz (16µinRa) with just 3-Pass Machining (1 Rough, 2 Skim Cuts) using standard brass wire.  



The addition of HyperCut in sinker EDM machining guarantees the fastest possible machining speed, with reductions of up to 33% in machining time compared to conventional machining methods. HyperCut also maintains minimal electrode wear while providing exceptional accuracy and surface finishes. Unique to Sinker EDM, HyperCut technology can be utilized with any existing electrode, as the technology does not require any additional electrode reduction to achieve significant improvements in cycle time.



Hyper Technologies are currently rolling out on a variety of Makino wire EDM, sinker EDM and hole drilling machines. To learn more about Makino EDM machining solutions, visit https://makino.com/machining-process/edm-process/.



About Makino

A world leader in advanced CNC machining centers, Makino is committed to providing high-performance, leading-edge machining technologies and innovative engineered process solutions that enable manufacturers to focus on making what matters. Makino offers a wide range of high-precision metal-cutting and EDM machinery, including horizontal machining centers, vertical machining centers, 5-axis machining centers, graphite machining centers, and wire and Ram EDMs. Makino's flexible automation solutions provide reduced labor costs and increased throughput in a variety of production volumes and designs. Makino's engineering services offers industry-leading expertise for even the most challenging applications across all industries. For more information, call 1-800-552-3288 or visit makino.com.



For more information, additional images and releases, visit makino.com/media. Connect with Makino on Facebook at facebook.com/makinomachine. Follow Makino on Twitter at twitter.com/makinomachine.

More from Machinery & Machining Tools