EDM Machine targets stamping die market.
Press Release Summary: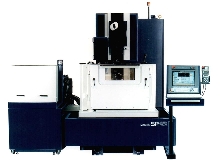 The SP43 part-in/part-out production wire-cutting machine handles maximum workload of 1,760 lbs and is able to hold tolerances of ±5 µ. It accommodates wire sizes from .004 to .012 in. diameter and taper cutting capability up to 15 deg. X-, Y-, and Z-axis travel is 18 x 12 x 12.8 in. Wire Wizard(TM) control software provides programming, set-up, and operation. It will output total machining time, consumable costs, and total part cost if hourly shop rate is applied.
---
Original Press Release:

Makino Introducing New SP-Series Wire EDM Machines


To Include State-of-the-Art Cutting and Control Technology

AUBURN HILLS, MI-August, 2002-Makino will introduce its newest line of wire EDM machines at the International Manufacturing Technology Show (IMTS) September 4-11 at Chicago's McCormick Place. The SP-Series is targeted for the stamping die market, the largest market for wire EDM machines in the United States, though it also has application in numerous other markets.

The SP43 machine is a competitively priced, extremely fast part-in/part-out production wire-cutting machine, able to hold tolerances of +/- 5 microns, which will be immediately available to the marketplace. The larger SP64 wire EDM is intended for release in 2003, but will be introduced as a prototype machine at IMTS.

Three SP43s and one SP64 will be displayed in a die-cutting exhibition at the Makino Die Job Shop, located at Booth # 4227 in the EDM Pavilion of Hall D at IMTS. The SP-Series will feature
Makino's newest wire EDM technology, the Wire Wizard(TM) control process software and the PVG(TM) cutting technology, which are initial market entries.

Makino's Wire Wizard(TM) and PVG(TM) Technology
Wire Wizard(TM) (MGW-S) software is a new, easy-to-use control system for Makino wire EDMs designed for total part processing. The software has three main components-Programming, Set-Up and Operation-which provide the basic needs for any application. It uses this logical approach by actually prompting the operator through the process. This simplistic operation makes the
learning curve of the software negligible, providing an easy transition for any operator.

Makino's Wire Wizard(TM) also offers an estimating feature that will actually calculate part-manufacturing cost. With minimal input from the operator, the control software will output total
machining time, consumable costs, and can even output total part cost if an hourly shop rate is applied. This allows customers to monitor, control and drive out operational costs when utilizing
the SP43 wire EDM.

Makino's new state-of-the-art PVG(TM) cutting technology provides super-geometric integrity without sacrificing speed, and allows the SP-Series to operate 30 percent faster than current Makino wire EDM technology.

PVG(TM) stands for P-Cut, V-Corner and GS-Cut which are all control features design to improve part accuracy and machining performance. P-Cut facilitates faster rough cutting and improved surface finishes by controlling the spark gap. V-Corner is a unique control capability that provides outstanding shape accuracy, most notably in small corner applications. GS-Cut improves straightness in the initial cut, reducing the corrective error for the skim passes, thus producing straighter parts in less skim passes and reduced cycle time. This advantage is greatest on thicker material, which is a problem for many competitive wire EDM machines.

SP43 Features
The SP43 is a solid workhorse, with the ability to handle a maximum workload of 1,760 pounds (800 kg). It is a sturdy 5,940 pounds (2,700 kg) in a compact 8.5 x 8.5 x 7.63 feet (2,550 x 2,550 x 2,290 mm) footprint. The dual-action doors (two doors in one) and easy to reach table height of 38.8 inches (970 mm) are noticeable design features for operator convenience.

The SP43 machine has an X-, Y- and Z-axis travel of 18 x 12 x 12.8 inches (450 x 300 x 320 mm) with a maximum workpiece size of 29.2 x 20 x 12 inches (730 x 500 x 300 mm). This machine offers the use of wire diameter sizes from .004 inch to .012 inch and taper cutting capability up to 15 degrees.

The programmable auto-threading unit of the SP43 has a 15-second thread time. The unit can be used for many diverse applications, from tall workpieces to precision small holes.

Several other new machines and currently popular Makino equipment models and technological processes will be highlighted at the company's main display at IMTS in Booth #8400 of Hall A.
Dedicated to helping manufacturers drive costs out of their operations, several cost-saving process and application demonstrations will be conducted at both locations.

Makino is a global provider of advanced machining technology and application support for the metalcutting and die/mold industries, dedicated to driving out more costs from your manufacturing operation than any other competitive machine tool manufacturer. Makino manufacturing and service centers are located in the United States, Japan, Germany, Singapore, Italy, France, Korea, Taiwan, China, Mexico, Brazil, and India, and are supported by a worldwide distributor network. For more information call 1.800.552.3288, or visit Makino on the Web at www.makino.com.

More from Mechanical Power Transmission