EDM Machine features precision C-axis capabilities.
Press Release Summary: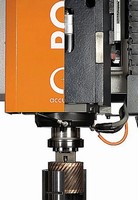 Accura-C models of Roboform 350/550 Die Sinker EDMs come with Windows®-based Dynamic Process Control system that provides embedded e-documentation and interactive graphics for machining operations. To counteract effects of pulsation movements in dielectric fluid, C-axis withstands up to 71,116 lb x in.² inertia. This allows precise helicoidal machining with electrodes weighing up to 110 lb. Roboform 550 can handle up to 3,530 lb workpieces that measure 47.24 x 33.46 x 15.75 in. max.
---
Original Press Release:

Charmilles Introduces New High-Precision C-Axis



Lincolnshire, Illinois, July 7, 2006 - To provide customers with a more flexible EDM alternative, Charmilles now offers Accura-C models of its Roboform 350/550 Die Sinker EDMs. The addition of an extremely accurate C-axis provides a dramatic increase in performance to manufacturers of certain types of molds, turbine blades and parts requiring helicoidal machining.

Accuracy and reliability were given prime consideration throughout the Accura-C's design. To counteract the effects of pulsation movements in the dielectric fluid, the C-axis is built to withstand maximum inertia of up to 71,116 lbs. x in.2. This boosts productivity and allows precise helicoidal machining with electrodes weighing up to 110 lbs. Meanwhile, pneumatic braking capacity of up to 60 Nm guarantees maintenance of electrode position. Additionally, Accura-C features a liquid cooling system to eliminate inaccuracy from thermal instability.

The Accura-C feature provides even greater benefit when coupled with Charmilles' new GammaTEC technology. GammaTEC combines optimization of the dielectric system with a special pre-mixed additive to provide homogenous diffusion of spark energy. For helicoidal components, this combination of technologies produces the most accurate parts possible.

When designing the Roboform 350/550, Charmilles analyzed the findings of a survey of moldmakers to develop interface functions and optimize screen ergonomics, resulting in unequalled performance and operator comfort. Called Dynamic Process Control (DPControl), the system was created to be directly involved with the manufacturing process.

With interactive graphics and embedded e-documentation, the Roboform 350/550 series is compatible with existing system architectures since its DPControl is based on a standard Windows platform. System integration eliminates the need for further investments or special training. Already a standard in the industry, user-friendliness has been further enhanced to satisfy the demand for operator convenience.

With the new system, graphics illustrate all machining operations, facilitating intuitive and spontaneous comprehension by the operator. Electronic manuals allow the operator to instantly receive easy-to-understand information about the current function by simply pressing the F1 key on the keyboard. DPControl also suggests ideal electrode undersize, rationalizes the number of electrodes needed and organizes job sequencing according to preset priorities. Machining status information is transmitted to the operator via SMS and full reports are automatically created for job evaluation.

Similar in most aspects, the Roboform 550 can handle much larger parts than the Roboform 350. Its ample work area accommodates workpieces up to 47.24" wide by 33.46" deep by 15.75" tall, weighing up to 3,530 lbs.

About Charmilles

Charmilles, a Swiss company, is the North American leading supplier of wire EDM, CNC diesinking and manual EDM systems. For more information on the Company's other products and services and those of its sister company, Mikron, supplier of high speed and 5-axis CNC milling machines, contact Gisbert Ledvon, Charmilles, 560 Bond Street, Lincolnshire, IL 60069-4224. Tel: 1-800-CTC-1EDM. Fax: 847-913-5340, or visit www.charmillesus.com.

More from Mechanical Power Transmission