Edge Heating System optimizes TEM performance.
Press Release Summary: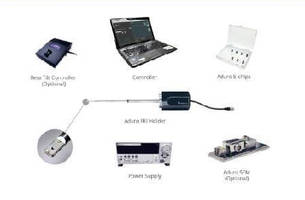 Combining Aduro semiconductor-based thermal sample supports with redesigned TEM holder, Aduro with Edge technology optimizes thermal accuracy and uniformity for in situ heating experiments while minimizing thermal drift. Edge technology maximizes performance of Transmission Electron Microscope by allowing scientists to visualize materials at nano and atomic scale while at accurate and uniform temperatures. It provides 99.5% temperature uniformity of imaging area with 95% thermal accuracy.
---
Original Press Release:

New Edge Heating Technology Release by Protochips



RALEIGH, N.C. -- Protochips, Inc., (www.protochips.com) today announced the availability Aduro with Edge technology. The revolutionary new Edge technology further increases thermal accuracy and uniformity for in situ heating experiments, while dramatically reducing thermal drift. Edge technology increases the performance of the Transmission Electron Microscope (TEM) by allowing scientists to visualize materials at the nano and atomic scale while at accurate and uniform temperatures.



The Edge technology provides the unparalleled temperature accuracy, uniformity and low drift by combining the next generation of Aduro semiconductor based thermal sample supports with a redesigned holder in order to fundamentally improve in situ heating and electrical analysis.  By modifying the geometry of the ceramic membrane and enhancing other chip features, Protochips created an extremely uniform and stable heating platform. The second component of the Edge technology advantage is the redesigned TEM holder. From years of experience, customer feedback and an understanding of future market needs, the holder was optimized to improve signal isolation, mechanical stability and electrode contact. The Edge technology reduces total drift displacement of prior generations by over 90% and provides 99.5% temperature uniformity of the imaging area with 95% thermal accuracy.



"We created this technology specifically to bring quantifiable data to in situ microscopy," said Aduro Product Manager Kyle Watson. "Scientists demand reproducibility to substantiate their research, which is impossible without a uniform temperature across the entire imaging area."



Protochips is now taking orders for Aduro with Edge. Contact sales@protochips.com for more information.



About Protochips, Inc.

Protochips, based in the Research Triangle Region of NC, is the global leader for in situ electron microscopy products.  The revolutionary systems include Aduro for heating and electrical, Poseidon for liquid, electrical and heating and Atmosphere for pressurized gas and heating. Protochips' innovative E-chip consumables, combined with Edge technology and the Clarity In Situ Software Suite, fundamentally change the way in situ microscopy is performed. With hundreds of systems in use in 24 countries, several hundred publications and an expanding international distribution network, Protochips is the in situ expert. For additional information, visit www.protochips.com.



CONTACT:

Kyle Watson

Product Manager

+1-919-434-3939 (ET)



Nicole McDonagh

Inside Sales

+1-919-377-0817 (ET)

More from Sensors, Monitors & Transducers