Carton / Plate Edge Protectors
Edge and Corner Protectors are made from 100% recycled HDPE.
Press Release Summary: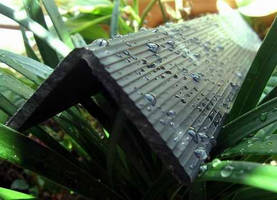 Offering green alternative to paper or laminated products for unitizing and edge protection ECOGUARD(TM) is manufactured from 100% recycled high density polyethylene (HDPE) and does not contain any glues, adhesives, inks, or other non-plastic contaminants that hinder recyclability. Waterproof product, designed to be re-used, comes in stock sizes as well as custom weights and lengths. It can be used with strap or stretch film for unitizing packages on pallet.
---
Original Press Release:

Pac Strapping Introduces Ecoguard(TM) Recycled Edge and Corner Protectors



Pac Strapping Products of Exton PA introduces ECOGUARD(TM). the "green" solution to Unitizing and Edge Protection.

ECOGUARD(TM) is manufactured from 100% recycled high density polyethylene. It can also be recycled, and contains no glues, adhesives, inks or other non plastic contaminants that hinder recyclability. It is also designed to be re-used. In addition to being a "green" alternative to paper or laminated products, Ecoguard's(TM) characteristics make it the preferred alternative versus other forms of edge and corner protection. Characteristics and benefits are listed below:


Moisture and Weather Resistant
Unlike paper products, Ecoguard(TM) is waterproof and will not break down when stored outside. It continues to protect your product in all types of climates.

Unitizes Your Shipment
Used in conjunction with strap or stretch film, Ecoguard(TM) unitizes smaller packages on your pallet reducing pilferage and damage.

Improved Stacking Strength
Vertical application of Ecoguard(TM) reinforces loads allowing them to be stacked higher and more effectively using warehouse space.

Better tension distribution
Used with strap, either plastic or steel, Ecoguard(TM) disburses tension around the load increasing package integrity and reducing strap and shipping damage.

Custom sizes
In addition to stock sizes, Ecoguard(TM) can be custom produced in various weights and lengths to fit specific loads.

About Pac Strapping Products:

Founded in 1982, PAC Strapping Products, Inc., is a full service manufacturer and supplier of plastic strapping, plastic strapping machines and systems, steel strapping, along with tools and accessories for both plastic and steel strapping.

For over 25 years PAC has focused on providing the best value in our industry by supplying our customers with a full line of quality products, on time delivery, competitive pricing and innovative solutions.

For more information, Please contact us at 610-363-8805, 800-523-775, info@strapsolutions.com or visit our website www.strapsolutions.com

Related