ECT Receptacles are suitable for commercial applications.
Press Release Summary: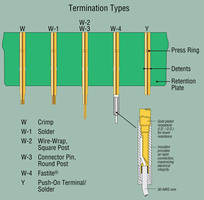 ECT Receptacles are suitable for ICT and FT applications. Units come with press fit ring in the outer surface. Products are available in crimp, solder cup, wire wrapping and Fastite® termination versions.
---
Original Press Release:
ECT's Comprehensive Portfolio of Receptacles Offer Flexibility in PCB Test Fixture Design
ECT receptacles combine industry proven technical features with optimized cost ECT leverages its industry leading experience in probe and receptacle design and manufacture to provide cost-effective and reliable customer-focused solutions for the most challenging ICT and FT applications. ECT receptacles allow for rapid replacement of spring probes without disrupting wiring. ECT's comprehensive offering of receptacles provides customers with fixture design flexibility that results in an optimal product for their customers.
ECT receptacles meet both commercial and technical challenges. PCB testing requires cost effective and reliable ICT and FT receptacle solutions that allow for the replacement of spring probes in fixtures without damaging the electrical connection to the test fixture. At the same time, a stable low resistance path through the probe/receptacle assembly must be maintained while withstanding a rugged mechanical environment.
ECT replaceable probes are retained by receptacles permanently fixed into a retention plate to which electrical connection is made. Typical probe retention is achieved by detents in the receptacle or a threaded connection. Removal of the probe does not damage or break the electrical connection to the retention plate and receptacles.
Receptacles are retained in the fixture retention plate by a press fit ring on the outer surface of the receptacles. Receptacle options from ECT include:
 Crimp receptacles (type W): This reliable connection is used primarily on smaller probe sizes in high density applications where wire wrap is not an option.
Solder cup (type W-1): Used to attach the wire by soldering. It offers an excellent electrical connection between wire and receptacle.
Wire wrapping (receptacles type W-2 and W-3): These are the preferred way of connecting wires to receptacles in higher volume fixtures as they are the least labor intensive. Wire-Wrap receptacles are available in 2 styles: square post and round post. Round post receptacles are mostly used if the connection will be made using a mating standard e.g. edge card connector.
Fastite® Termination: Offers the lowest fixture wiring cost for 50 mil test center receptacles. The design combines a quick wire-insertion slot in the termination end with a precision-molded dielectric sleeve that reinforces the connection, eliminates strain and prevents electrical shorting.
Learn more about the termination types here https://shop.ect-cpg.com/information/termination-types/
Tony DeRosa, Senior Product Manager, comments: "ECT provides a wide range of receptacle options that cover both size and termination selection. Our solutions ensure that our customer have an efficient way of replacing probes on PCB test fixtures, while maintaining electrical performance."
To learn more about ECT's portfolio of receptacles, visit https://shop.ect-cpg.com/shop/?swoof=1&product_cat=receptacle
About Everett Charles Technologies (ECT):
ECT (headquartered in Fontana, CA) is the world's leading manufacturer of POGO ® contact probes for a wide range of applications including industrial, medical, military, connectors and testing bare and loaded printed circuit boards. We invest in R&D programs which address engineering and materials issues that will impact contact solutions for the next decade. Methods for maintaining electrical continuity in miniature probes, improved spring technologies and probe head geometries are under continual review. ECT POGO ® contacts are marketed worldwide through sales offices in the United States, Europe and Asia. ECT is a company of Xcerra™ Corporation, which provides capital equipment, interface products, and services to the semiconductor, industrial, and electronics manufacturing industries. Xcerra Corporation offers a comprehensive portfolio of solutions and technologies, and a global network of strategically deployed applications and support resources. Additional information can be found at www.ectinfo.com and www.Xcerra.com.
More from Machinery & Machining Tools