ECT Compliant Connector Solutions Introduces Sliver(TM) Technology for the Interposer Market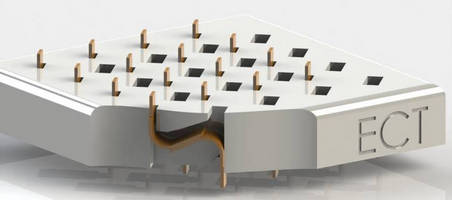 Pomona, Calif. – Everett Charles Technologies' (ECT) announces that its CCS has developed a low-profile technology for the interposer market. ECT's new Sliver™ technology (Patent # 7,695,286) offers the most efficient use of Z height available on the market. Sliver is the ideal solution for space and lifecycle performance.



The marketplace continues to drive evermore complex packaging. Common solutions are either too tall or face early failure due to insufficient strain distribution. ECT's Sliver™ combines traditional bending techniques with its sliding technology, creating a contact that will maintain its compliance characteristics time after time.



With the height dilemma solved, Sliver™ also fits comfortably in today's high-density packages.  The density and height parameters are designed to specification for each application. One recent design achieved a 0.025" (0.63 mm) compressed height on a 0.026" (0.65 mm) grid. The uncompressed height of the contact is 0.037" (0.094 mm), an impressive 50 percent compliance-to-height ratio.



Everett Charles Technologies is a subsidiary of Dover Corporation (NYSE: DOV) a leading manufacturer of electrical test products and services, including Pogo test contacts, semiconductor test products, bare-board automatic test systems, and bare and loaded PCB test fixtures.  ECT manufacturing, service, and support facilities are ISO registered with locations throughout the United States, Europe, and Asia.  The company has been awarded numerous patents and participates actively in developing industry standards.  Corporate offices for Everett Charles Technologies are located at 700 E. Harrison Ave., Pomona, California, USA, 91767.  Additional information about ECT is available via the Internet at www.ectinfo.com.

More from Software