EcoStrip 9380 - Welcome to the Future of Entry Level Cut & Strip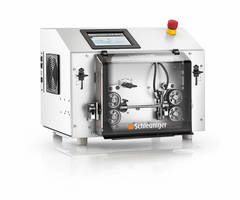 At the 2015 productronica trade fair, Schleuniger debuted the new EcoStrip 9380, the company's latest innovation in its cut and strip product family. This capable, entry level machine for professional demands once again confirms Schleuniger's number one position in this market segment.



"You don't need to wear a dinner suit every day," Schleuniger's Head of Marketing, Martin Engel, says. "Quite often jeans meet your needs." The same is true of the cut strip process: A wide range of applications do not require more than an entry level solution. Engel adds, "Whether you invest in an evening suit or jeans, you should make sure to buy a quality product that satisfies your demands." And that's exactly why Engel says an investment in the Schleuniger EcoStrip 9380 is a perfect decision. "The latest technologies, cleverly combined with Schleuniger's industry renowned precision, make it easier than ever to process a wide range of entry level applications," Engel concludes.



Three-in-one feeding unit and improved price to performance ratio



One of the highlights of the EcoStrip 9380 is that it can be configured with rollers or belt feeding and the configuration can be quickly and easily changed by the operator. The unique 3-position design of the optional belt feeding system further enhances the customer's capabilities. The belt feeding can be set for normal mode, roller mode or short mode processing – depending upon the application. And thanks to the strip-boost control of the feeding units, additional stripping force can be added if it's required.



The EcoStrip 9380 is an economically priced machine with an excellent price-performance ratio. In terms of performance, it exceeds previous models by approximately 20 percent. The EcoStrip 9380's low production costs are derived from features such as its state-of-the-art design and the ability to process two wires in parallel. The EcoStrip 9380 is also compatible with a full range of pre- and post-processing accessories for prefeeding, marking (inkjet on-the-fly), stacking, coiling and tying, which turn the stand-alone machine into a fully automatic processing line. Owners of the original EcoStrip 9300 model can save additional money by using their current blades and guides with the new EcoStrip 9380.



Easy to use and uncompromisingly precise



The EcoStrip 9380 is a hardworking machine that is also user-friendly. It is controlled via Schleuniger's standardized S.ON user interface with 5.7" color touchscreen. With the release of the EcoStrip 9380, this interface is now the standard across the entire line of Schleuniger cut & strip products. As business grows this standardization makes it easier than ever for customers to expand capabilities and transition to new, higher level cut & strip machines without having to learn a new user interface. And of course, the EcoStrip 9380 is compatible with Schleuniger's wire processing software, Cayman, as well as the planning software, S.WOP, for network integration of the machine.



In addition to these benefits, the EcoStrip 9380 is uncompromisingly precise. All driven axes are powered by Schleuniger's proven electronic platform, Bricks. Furthermore, the machine is equipped with a high resolution blade holder and feeding drive axes as well as precise guide parts, which can be quickly changed without the use of any tools.  And don't forget, "Schleuniger offers an extensive range of service options to assist the customer in achieving precision results throughout the entire life cycle of the machine," Martin Engel points out. Backed by the most experienced direct support staff in the industry, local customer support is available wherever the customer is located.



More information about this new product can be found at www.schleuniger-na.com. Should you have any questions, please e-mail sales@schleuniger.com or call 603-668-8117.



About Schleuniger



The Schleuniger Group in Thun is a globally active technology company and a leading supplier in the Wire Processing industry. Customers of the Schleuniger Group primarily supply the automotive, entertainment and information industries as well as the communication sector. Schleuniger products are used whenever precise wire processing plays a role.



Development and production are located in Switzerland, Germany and China. Schleuniger is always close to its customers - with four Sales and Service companies in the US, Germany, China and Japan as well as with 40 distributors worldwide.



The Schleuniger Group represents the Business Unit Wire Processing of the listed Metall Zug Group and has about 640 employees and 30 trainees worldwide.





More from Machinery & Machining Tools