Ecosmob Presents Emergency Call Control System with Interface for Video Chat and Non-Voice Communication
Press Release Summary: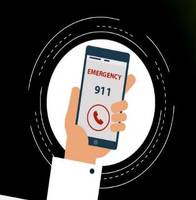 The Emergency Call Control System is designed for addressing the needs of public safety answering points like 911 emergency services. The system is offered with features such as transfer buttons, larger buttons for people with visual disability, texting, text to speech and language translation. It allows audio and video conferencing to deliver clear audio regardless of the bandwidth. The unit provides a map on the screen that helps operators to pinpoint locations with the implementation of GIS for the automatic location information of master street address.
---
Original Press Release:
Ecosmob Offers Emergency Call Control System for Faster Call Management
Ecosmob launched emergency call control system for faster call management, an innovative and technologically advanced emergency call solution that will be welcomed by Public Safety Answering Points.
Ecosmob, global leaders in VoIP technologies, announced the availability of emergency call control solution to address needs of public safety answering points such as 911 emergency services.
Ecosmob already offers VoIP based IP-PBX and call center solutions incorporating class leading features such as CRM, IVR, AI and WebRTC integrations as well as omnichannel facility. Ecosmob emergency call control system takes the best of these features and incorporates them into an integrated and customizable package. Ecosmob emergency call systems are faster and smarter helping PSAPs respond faster and better.
Operators will find the solution easy to use since the interface has customizable buttons and these can be configured for touchscreen operations. The features include transfer buttons, larger buttons for people with visual disability, texting, text to speech and language translation as well as interface for video chat, non-voice communication and facility for the hearing impaired to use their preferred mode of messaging.
Audio and video conferencing is part of the system optimized to work speedily and deliver crystal clear audio regardless of bandwidth. A map on the screen is included to help operators pinpoint location with implementation of GIS in the core in preference to automatic location information of master street address.
There is a voice recording feature as well as computer aided dispatch facility. Ecosmob has made the Emergency Call Control System feature rich, including virtually everything that is need for extremely fast responses. Implementing Ecosmob emergency systems could result in many lives saved or critical situations avoided. It is not just law and order authorities that could benefit from this solution; healthcare and disaster management services too benefit by having in place this system.
Ecosmob has put together the best solution with smart inclusion of media protocols and technologies that work without a glitch. The solution interfaces easily with modern as well as legacy hardware for smooth flow of data and voice in a single communication process. At the same time, it can poinpoint wireless callers with precision.
The technology side is fully refined for smooth operations that result in fast responses. At the same time, Ecosmob has also included full analytics and reporting into the package. This sophisticated analytics is expected to help emergency service providers derive insights that will help them to improve. The system complies with reporting requirements and NENA i3 for call tracking.
Ecosmob technology for emergency responses today is far better than what others offer. Add to this competence in customization to suit specific use areas and lower costs backed by exceptional support and Ecosmob solutions for emergency call responses are likely to become leaders in this segment.
Interested organizations may get in touch with Ecosmob by phone on 91 79 40054019, 1-303-997-3139, email sales@ecosmob.com or initiate live chat on https://www.ecosmob.com.
More from Laboratory and Research Supplies and Equipment