Ecosmob Offers Kiosk Software with Increased Levels of Encryption and Security for Card Payments
Press Release Summary: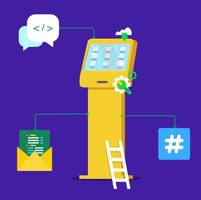 Incorporates high levels of security that is accessible to limited users for preventing unauthorized access
Suitable for use in banking, insurance, hospitals, restaurants, hotel, travel, government institutions, libraries and museums
Can be designed for transforming device into passive for displaying about a company, its services and products
---
Original Press Release:
Ecosmob Announces Kiosk Software Development for User Convenience
Self service and a happy customer experience are of prime importance. One way is to offer kiosks powered by appropriate kiosk software that Ecosmob puts in place.
Ecosmob, trending technologies developer, announced availability of kiosk software development services. These services are aimed at banking, insurance, hospitals, restaurants, hotel, travel, government institutions, libraries and museums where there is a large inflow of people. Ecosmob offers tailored kiosk solutions for each segment with its acclaimed expertise in kiosk solution development.
Ecosmob team of kiosk application development experts can come up with tailored solutions according to a client's needs. Ecosmob kiosk software transforms a computer, laptop or a tablet into a self-service kiosk that is fully secured. The kiosk software can be designed to transform a device into a passive display such as for displaying information about a company, its services and products. Ecosmob kiosk software can be tailored to be interactive such as in libraries, public institutions, restaurants, hospitals and travel where the kiosk can provide information as well as let the user pick from a menu, place an order, fix an appoint, book a ticket and even make secure payments. Ecosmob can put in place kiosk software for retail point of sale and incorporate barcode systems, fingerprint scanners and image capture as may be required by a client.
Self service kiosks, according to the company's VP, when powered by tailored kiosk software, helps reduce burden on existing staff and it even speeds up processes. Visitors to a bank or insurance company or hospital may not have to stand in queue to get their work done. They can use any one of the several kiosks to get details of their account and conduct transaction without the need for intervention of employees. Kiosks powered by appropriate kiosk software from Ecosmob software development service can even be used in temporary events like conferences and exhibitions. Participants can use the kiosk in order to view multi-media interactive demos. Organizers can use the kiosk with the right Ecosmob kiosk solution to capture visitor data and leverage it for marketing purposes. Libraries and museums can provide a richer experience for visitors and, if need be, monetize operations too.
Ecosmob kiosk application development incorporates high levels of security to grant only limited rights to users and to prevent unauthorized access even in the simples kiosk solution that provides information. Even in complex and feature rich kiosk solutions that include payments, Ecosmob takes care to incorporate high levels of encryption and security for card payments.
Ecosmob offers tailored kiosk solution development services directly to establishments such as restaurants, travel segment, banking, insurance, hospitals and public institutions with branding facility. Ecosmob also welcomes kiosk hardware vendors and providers to add to their product portfolio by going in for white labeled kiosk software solutions. In all cases Ecosmob offers solid support, superior competency in speedy and flawless implementation and a fair pricing policy.
Interested industry segments may get in touch with Ecosmob by phone on 1-303-997-3139 or chat live on https://www.ecosmob.com/kisosk-software-development/#Contact-us.
More from Agricultural & Farming Products