Economical Cutting Machines from Mitchell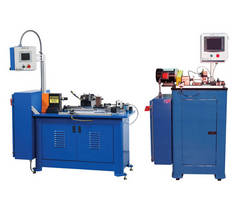 Mitchell, Inc. offers the Model 24 Lathe Cutter and Model 618 Automatic Rubber Cutter, two economical cutting machines for various tube cutting applications.

The Model 24 is a lathe cutter designed to cut molded, small ID, short length tubes. This precision machine is designed to work on smaller parts with precise tolerances.

Model 618 precision lathe cutting machine can improve the bottom line when cutting round or cylindrical parts from rubber, some plastics and composites. This rubber cutter is designed to accommodate a majority of multipurpose tube cutting applications for seals, rings, gaskets, etc. Model 618 can cut smaller I.D. tubes up to 6" and shorter lengths from 1" to 18". The design can be altered for larger I.D. and longer lengths. These machines also feature digital controls, less noise, less cost, less mechanical set-up and less oil and dirt.

Mitchell Inc. produces specialty machines designed to cut or trim round or cylindrical parts from rubber, some plastic and composites.

For more information on Mitchell's precision cutting and trimming machines, please contact Mitchell Inc., P.O. Box 413, Elkhart, IN 46515. Phone: 574-295-3509, Fax: 574-295-3798. E-mail: sales.mitchellinc@gmail.com, Website: www.mitchell-inc.com.

More from Machinery & Machining Tools