Economical, Custom-Designed Flow Rack RX For In-Process Parts Handling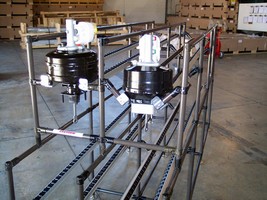 In-process parts and sub-assembly logistics and handling can be a tough challenge for manufacturers. Typical containers and dunnage may not be practical from a labor efficiency standpoint or be cost effective for pieces that will be processed, moved, and possibly handled again, yet components may require safeguards from damage that such packaging offers. Parts and assemblies can be awkward in shape or size, creating needs for specialized handling equipment.

Utilizing the Creform System's inherent simple design parameters and ease of fabrication, Creform applications specialists have developed a new concept in economical flow racks/carts that allow quick customization to specific part shapes and dimensions, and in response to particular process parameters. The structure helps optimize process throughput and eliminate packaging costs while improving efficiency and providing better use of floor space. It also boosts quality by reducing human errors and improving ergonomics while promoting a more organized, safer work environment.

As one of the firm's most recent examples (illustrated in accompanying photo) of this customization process, the flow rack/cart is readily adapted to incorporate the unique design elements required for safe, secure part and component handling and transport.
The rack shown was created to hold two different styles of power brake modules or 'brake booster' sub-assemblies-the flow lane on the left containing a relatively flat surfaced model while the right side lane features angled skatewheel rollers to match the diagonal surface of its corresponding booster assembly. Besides the need for the angled surface plane which keeps parts centered as they move down the lane, the open center passage of each lane allows the long shaft of the module to extend below the rails, and not impede with product flow. The design, using 'stub' beam pipes to support the lanes' structures, eliminated the need for customary full width beams that could also interfere with loading and unloading. Thus, the open center of the flow conveyor means operators only need to lift the part about 1-1/2" to clear the conveyor end stop rather than the entire shaft length. This design also provides built-in side guides to securely retain the parts and ergonomically orients parts for efficiency and to reduce risks of injury.

In addition to the custom flow lanes, the Creform System promotes process optimization because each rack can be built to other specific application needs. These include dimensional length, height, width, load bearing capacity and number of lanes, to move product(s) in one direction or to have return lanes. Other options include making the structure stationary by using foot pads, or in adding casters to transform them into mobile and maneuverable transport carts.

Custom flow racks are constructed using the Creform System's components, consisting of plastic-coated steel pipe, metal joints and hardware accessories, that allow users to specify their custom application needs. The pipe sections are easily cut to required plan lengths while assembly done with metal joints allows fine tuning and adjustments of the structure after construction. Through the Kaizen process this construction technique also means that racks may be modified to meet future production changes or easily disassembled and rebuilt.

Added flexibility and customization is obtained by the numerous auxiliary hardware accessories available to complement each structure's usage...including label holders, full-width rollers (instead of skatewheel), dividers , picking lights, stops, hinges and latches, clamps and mounts, springs, tool holders, leveling and height adjusting feet, and more.

Creform Corporation offers design assistance for custom handling structures and provides flow racks as pre-fabricated kits or as fully assembled units-and partners with its customers in developing, implementing, and expanding lean manufacturing objectives

In addition to custom flow racks, Creform components can be used to build traditional
flow racks and part presentation stands; push carts and trailers; roller conveyors; hinged shelf carts; tilting racks; work tables and workstations along with portable tool cribs and storage units. The Creform System can also be used to implement economical and easy-to-install Automated Guided Vehicle systems for efficient automated material handling.

Visit www.creform.com for additional information regarding Creform Corporation, its products and applications.

More from Electronic Components & Devices