Electrical Sensors / Detectors / Transducers
ECG System enables real-time catheter tip location.
Press Release Summary: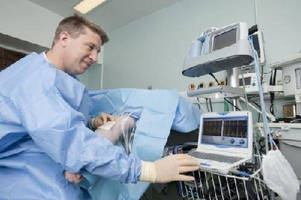 Designed to minimize patients' and clinicians' exposure to X-ray radiation, Nautilus® uses ECG technology to give clinician immediate feedback on catheter tip location, enabling consistently accurate PICC placement both in hospital and, potentially, in community setting. ECG technology minimizes risks associated with blind catheter placement such as thrombus, which can lead to hospital associated infections.
---
Original Press Release:

Vygon Launches Nautilus® Real-time Catheter Tip Location



SWINDON, England -- Vygon (UK) Ltd has launched an innovative new ECG product designed to help reduce both the patients' and clinicians' exposure to X-ray radiation and enhance therapy. Nautilus(R) [http://www.vygon.co.uk/products/group/piccs ] helps you find your way during catheter insertion by providing accurate, real-time tip location confirmation.



Thousands of peripherally inserted central catheters (PICCs) are placed each year, and traditionally tip location must be confirmed by X-ray before treatment can begin.



Nautilus(R) uses innovative ECG technology to give the clinician immediate feedback on catheter tip location, enabling consistent accurate PICC placement both in the hospital and potentially in the community setting, meaning that treatment can begin without delay.



Nautilus(R) uses proven ECG tip confirmation technology to minimise the risks associated with blind catheter placement such as thrombus, which can lead to hospital associated infections. It also eliminates unnecessary exposure to harmful radiation for both clinician and patient.



Clinical studies involving 334 varied patients show that ECG placement technology has a 97.3% success rate for placing the catheter tip correctly first time. Correct PICC placement on the first attempt allows the PICC to be used immediately and helps save time and money otherwise spent on chest X-rays and other associated on-costs.



"The introduction of a new technology that uses ECG monitoring to accurately map the tip position of a catheter during placement into a person's chest has greatly reduced risks for our patients. This means that the catheter is positioned accurately every time and also means patients no longer need to have an X-ray to check the catheter has been positioned accurately - avoiding radiation exposure in this way opens this course of treatment up to pregnant women, who previously could not have the procedure because of the X-ray risk to the unborn child."



About Vygon (UK) Ltd

Vygon (UK) Ltd is dedicated to the supply of single-use medical and surgical products. The company is a leading provider of intravenous access devices to the NHS. Brand names include; Multicath, Lifecath, Leadercath, Bionector, Biovalve and MIC.



Vygon (UK) Ltd is part of the The Vygon Group of Companies which have supplied the healthcare profession for over 40 years. The Vygon Group is a global manufacturer of single-use medical and surgical products. Internationally it designs, manufactures and markets more than 100 million products in 110 countries, all in accordance with ISO 9001 and EN 46001 standards.



Related links

www.vygon.co.uk/pdf/upload/Nautilus-ECG-Vygon.pdf

www.vygon.co.uk



For further information, please contact:

Katie Kingston, Marketing & Customer Communications Manager

T: +44-(0)1793-748830

More from Electrical Equipment & Systems