Eaton UNIBAG® Filter Bag Receives Green Leaf Symbol for Sustainability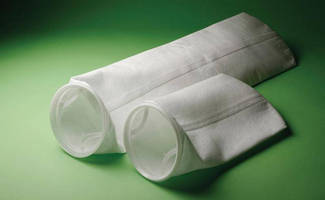 CLEVELAND ... Diversified industrial manufacturer Eaton Corporation today announced that its UNIBAG® filter bag has received the Eaton "Green Leaf" symbol for sustainability. The filter bag's Green Leaf symbol will assure municipal and industrial users that the bag is environmentally friendly and provides substantial environmental advantages over standard filter bags because the felt used in the polyester contains 40-60% premium recycled fibers without optical white additives.

Produced by Eaton's Filtration Division, the UNIBAG promotes the efficient use of energy and reduction of waste in the manufacturing phase of the bag's lifecycle. Eliminating the bleaching of the felt during the manufacturing process reduces the effects of damaging chemicals released into the waste stream. Usage of this bag will help companies reach their sustainability goals.

Eaton's Filtration Division is a worldwide leader in supplying environmentally friendly and economical solutions for liquid/solid separation problems and enhancing customers' processes in municipal and industrial water, oil and gas, chemical, paint, and other industrial market applications. Eaton's Filtration Division is the owner and manufacturer of the widely recognized legacy brands of GAF Bag Filters, Hayward Filtration, Loeffler, Ronningen-Petter, and Wright-Austin. Eaton filtration products are manufactured and sold worldwide through North and South American, European and Asia Pacific regional offices and an extensive global channel of representatives and distributors in more than 100 countries. For more information, visit www.filtration.eaton.com.

Eaton Corporation is a diversified power management company with 2009 sales of $11.9 billion. Eaton is a global technology leader in electrical components and systems for power quality, distribution and control; hydraulics components, systems and services for industrial and mobile equipment; aerospace fuel, hydraulics and pneumatic systems for commercial and military use; and truck and automotive drivetrain and powertrain systems for performance, fuel economy, and safety. Eaton has approximately 70,000 employees and sells products to customers in more than 150 countries. For more information, visit www.eaton.com.