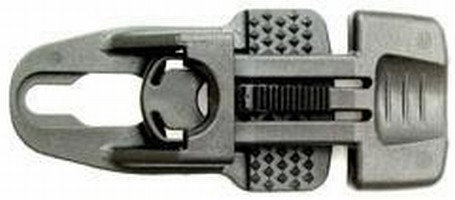 Special events designer Shane Nelsen was in a bind.

Nelsen's company, Sew What Inc., had been hired by Rick Doten of Rick Doten Productions to transform a San Diego airplane hanger into a bright and blazing events theater. The core of the "Fire" < Doten's vision for the project < was 2,000 yards of scintillating red fabric, hung from the ceiling for a dramatic effect that has become synonymous with Sew What's extensive work in the entertainment industry.

What troubled Nelsen was the fabric's weight and the difficulty of hanging the fabric in the correct position from motorized trusses high above the hangar floor. But Steel had an ingenious tool in his bag of tricks; EasyKlip fasteners that more than proved their worth in putting out any sparks in this "fiery" installation.

"Unlike a conventional ceiling treatment, there was no structure to actually measure," said Nelsen while contemplating the project's difficulties. "While we were sure of the overall dimensions of the outer perimeter of the trusses that would be installed, the concern was the height and positioning of the center pick point.

"A variance of just a few inches would prove devastating to the measurements of each and every fabric length that was to radiate from the center to the outer edge," he added.

Enter EasyKlips, a simple yet innovative tool from Europe for which Sew What Inc. is the exclusive California distributor.

"This is a phenomenal product that is now available in the U.S.," said Nelsen. "In fact, we were so excited to learn that the EasyKlip would finally be introduced into the U.S. that we were first to embrace the opportunity, and are pleased to announce that we are now the exclusive California distributor of this product line."

Each EasyKlip, which is constructed of glass-fiber reinforced Nylon, provides up to 220 pounds of gripping power for virtually any fabric. The clips provide an instant fixing point where and when you want it, and it works great on velour, vinyl, scrim, muslin and meshes.

For the "Fire" project, EasyKlip provided Nelsen and his Sew What team "a flexible and strong method of gripping heavy runs of fabric while on site."

Nelsen also employed EasyKlips to suspend a 100-foot-by-40-foot continuous ceiling treatment in the awards tents at the Sundance Film Festival in Salt Lake City. The clips are also used to temporarily shorten rental drapes, and adjust backdrop heights.

Said Nelsen, "It has revolutionized the way we install ceiling treatments. To be honest, you can't find a more versatile component."

With EasyKlip, there is no need for marking and measuring, and the time and money you spend on labor will be dramatically reduced. This ultra-simple, yet indispensable product helped Nelsen and his crew complete the entire ceiling treatment in San Diego in a single day.

"EasyKlip was the key product today," said Nelsen, "just like it has been on so many of our installations."

For more information about Sew What Inc. and EasyKlip, call USA 310 639 6000, or visit sewwhatinc.com.

More from Waste Management & Waste Handling Equipment