Earthquake-Proof Cabinets resist shock and vibration.
Press Release Summary: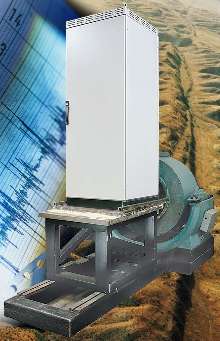 With cold roll steel frame and reinforced structural steel corner angles, Tecnorack Series customizable seismic Zone 4 cabinets protect contents against shock and vibration. Products, available in heights from 15-47 U, widths to 1,200 mm, and depths to 1,000 mm, feature static load capacity of 2,000 lb and dynamic load-carrying capability of 1,600 lb. Options include vented sides, custom cut-outs, and shielded EMC/RFI version.
---
Original Press Release:

Seismic Zone 4 Earthquake-Proof Cabinets from Schroff Provide Exceptional Shock and Vibration Resistance


Warwick, RI, August 2004 - Schroff®, the global leader in electronic enclosure solutions, now offers a full range of customizable seismic Zone 4 cabinets that provide exceptional protection against shock and vibration. Comprised of a rugged, cold roll steel frame with reinforced structural steel corner angles, the Tecnorack Series is ideal for heavy duty, indoor applications in the telecom, security, and defense industries.

Available in heights from 15 U to 47 U, widths up to 1,200 mm, and depths up to 1,000 mm, the new Tecnorack Series can be configured to fit virtually any customer specification. The Series has been tested with a static load capacity of 2,000 lbs. in accordance with NEBS Zone 4 and GR-63-CORE in three manually perpendicular axes: front to back; side to side; and vertically. Dynamic load-carrying capability is 1,600 lbs.

Options and modifications that add to the cabinets' versatility include vented sides, custom cut-outs, and a shielded EMC/RFI version for protection against electromagnetic interference (EMI). The EMC/RFI version, tested in accordance with NEBS GR-1089-CORE; VG 95373; and MIL-STD-285, also features a fabric-over-foam gasket made from UL-94HB urethane foam. The doors have a multi-hinge design and three-point latching to ensure a consistent EMC seal. The frame and external components of the EMC/RFI cabinets are marked and covered with conductive tape at all contact points.

The top cover and side panels of the Tecnorack Series are 1 mm, the steel doors are 2 mm, and the base uses a Telcordia-compliant floor bolt-down pattern. The cabinets come prepared for GND/earth line connections to VDE 0800 and VDE 0804 part 100. A complete line of accessories, including shelves, power distribution options, and thermal management components, is available.

Pricing starts at $1,000. Delivery is four weeks ARO.

For more information on the Tecnorack Series, please visit web.schroff.de/webcat/subgroup/pdf/us/tecnorack_overview.pdf?lang=us&catId=US, call 888-550-9543, or contact Technical Sales, Tel: 401-732-3770; Email: info@pentair-ep.com; Web: www.schroff.us.

Schroff® provides a world-leading brand of subracks and accessories, instrument cases, 19" cabinets, backplanes, integrated systems and enclosure hardware; and complete enclosure systems for CompactPCI, AdvancedTCA, VME and VME64x. Schroff manufacturers customer-specific enclosure systems including NEBS and outdoor aluminum enclosures; high volume stamped chassis; as well as custom backplane design and 4-level system integration. The company has 17 manufacturing locations in the Americas, Europe and Asia. More information is available at www.schroff.us.

Schroff is a subsidiary of Pentair, Inc., Golden Valley, MN, (NYSE: PNR) a diversified manufacturer that operates in two principal markets: electrical and electronic enclosures and water and fluid technologies.

More from Sensors, Monitors & Transducers