Earplug can be worn comfortably over extended periods.
Press Release Summary: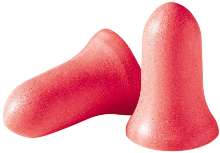 MAX® Earplug is made with material formulation that facilitates insertion and increases comfort for long-term wear. With NRR of 33 dB, flange of bell-shaped curve closely follows contour of ear canal entrance, adding to ease of insertion/removal. Able to be worn for extended periods of time due to comfortable fit, use of product results in compliance to hearing protection program guidelines.
---
Original Press Release:
Howard Leight Introduces New and Improved MAX® Earplugs

Smithfield, RI -- Howard Leight(r) Industries is rolling out a new and improved version of its popular MAX(r) Earplug in July 2004. The new earplug will retain the MAX name, but with a modified design and new, softer material formulation, MAX will be easier to insert and more comfortable to wear.

When introduced in 1986, the single-use MAX was the industry's first closed molded polyurethane foam earplug and occasioned something of a revolution in hearing protection. Its NRR of 33 dB was (and is) the highest attenuation any earplug had achieved to date, and its soft, contoured shape offered distinct advantages over the traditional, barrel-shaped PVC earplugs of the day. This combination of exceptional comfort and performance quickly made MAX one of the leading hearing protection products in the industry.

However, after a recent flurry of R&D activity, Howard Leight determined that improvements could be made. According to Bill Sokol, VP Strategic Marketing for Howard Leight parent company Bacou-Dalloz, "The goal for the new MAX design team was to take one of the industry's leading polyurethane foam earplugs--considered by many to be the best ever made--and make it better."

The new and improved MAX Earplugs retain their high NRR of 33 dB, as verified in independent NVLAP tests, but Howard Leight designers have improved the product in a number of subtle, yet significant ways. The new MAX is slightly longer than the original, and the flange of its bell-shaped curve more closely follows the contour of the ear canal entrance. This, combined with the new, softer material formulation, makes the earplug easier to insert and remove, and counters a tendency of some earplugs to back out of users' ears.

The new, softer material formulation also provides better attenuation at certain octave bands. But its major benefit is increased wearer comfort over longer periods of time. For users, this means reduced risk of damage from prolonged noise exposure, and for safety professionals, increased voluntary compliance to hearing protection program guidelines.

Product designations for the new MAX will remain the same, and the product will be phased in through all distribution channels beginning in July 2004

Since its beginnings as a one-man operation more than 30 years ago, Howard Leight Industries has grown into one of the largest manufacturers of in-ear protection in the industrial market and is widely recognized as an innovator in protection and fit. Since 2001 Howard Leight has been a part of the Bacou-Dalloz(tm) Hearing Safety Group. Combining the innovation and expertise of Howard Leight(r) Earplugs and Bilsom(r) Earmuffs, the Bacou-Dalloz Hearing Safety Group is a world leader in hearing safety.

In 2001 Dalloz joined with Bacou to form the Bacou-Dalloz Group, the world leader in the design, manufacturing and sale of Personal Protective Equipment (PPE). The company employs about 6,700 people and operates 48 production facilities. Bacou-Dalloz provides unmatched head-to-toe protection through three strategic business segments: head protection (eye, hearing and respiratory), body protection (gloves, clothes and shoes) and fall protection. Bacou-Dalloz offers a full product range aimed at the manufacturing, construction, telecommunications, medical, public services and other sectors. Its products are available from its distributor partners worldwide.

For additional product information, contact:

Howard Leight Industries

7828 Waterville Road

San Diego, CA 92154

Tel: 800-327-1110

Fax: 800-322-1330

http://www.howardleight.com

email: rbessette@bacou-dalloz.com
More from Services