EAO Offers a Comprehensive Range of E-Stops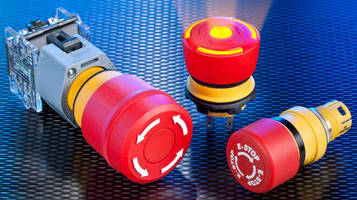 Milford, CT - EAO Switch Corporation of Milford, CT USA, a premier global supplier
of Human Machine Interface (HMI) Components and Systems, announces a comprehensive range of emergency-stops (E-Stops). These E-Stops accommodate a broad range of electrical and mechanical specifications for use in applications including factory and automation, food processing, medical, lifting and moving, and public transportation. They provide immediate shutdown in critical situations through safe/positive break contacts, plus a long service life in excess of 250,000 uses.

EAO supplies a range of foolproof twist-to-release E-Stops and simple stop switches in the industry-standard 16 and 22.5mm cut-out sizes. Popular for rugged, heavy duty applications are the Series 04, 44, and 84 E-stops for mounting in a 22.5mm cut-out. There are options for twist-to-release or key-to-release actuators as well as mushroom-headed stop switches. The 16mm Series 61 range is ideal for a smaller mounting footprint, and the LED illuminated Series 84 is ideal for handheld equipment due to its uniquely small behind-panel depth.

E-Stops are available as single-piece monoblock products with built-in switch elements or separate modular components including actuators and elements to facilitate different production techniques and contact configurations. The standard connections are plug-in or solder, screw, ribbon cable, or PCB terminals depending on the product range. Special enclosures, switch guards, palm guards, custom labeling, and other features are also available to complete virtually any type of switch, application, or industry requirement.

EAO designers are aware of international standards and regulations that impact the design and use of e-stops. EAO's products are RoHS and REACH compliant, meet UL requirements, Electrosuisse (a Swiss designation), DIN EN and CE (European Union) approvals. Every device is oil and watertight to a minimum IP 65. EAO E-Stops are also in compliance with ISO 13850, EN IEC 60947-5-1, and EN IEC 60947-5-5.

Visit our web site to download either our E-Stop White Paper, 'What Designers Need to Know About Emergency-Stop Switches'", or our special Emergency-stops Catalogue.
http://www.eao.com/eus/en/eMarketing/whitepapers_estop.asp

About EAO

EAO is a technology leader in Human Machine Interface (HMI) Components and Systems. Founded more than 60 years ago in Olten, Switzerland, EAO is a global manufacturer of a full line of HMI Components including switches, keypads, keyboards, as well as complete HMI Systems. For more information, visit our web site at www.eao.com or contact EAO at 98 Washington Street, Milford, CT 06460; Telephone: 203-877-4577; Fax: 203-877-3694. Send E-mail inquiries to sales@eaoswitch.com.

More from Electrical Equipment & Systems