EagleEye Deluxe Inspection Lamp Kit comes with adjustable lamp strap.
Press Release Summary: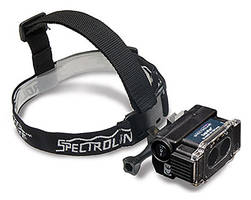 EagleEye Deluxe is suitable for inspection fluorescent magnetic particle and penetrant testing, mining inspection and applications. Unit features built-in fan, integral blacklight filter and upgraded splash guard with integral particulate filter. Product comes with rechargeable lithium-ion battery that provides up to 90 minutes of continuous inspection between charges. Inspection kit meets ASTM E3022-15 and ISO 3059 specifications.
---
Original Press Release:
Introducing the New EagleEye™ Deluxe
Ideal for Fluorescent Magnetic Particle and Penetrant Testing, Mining Inspection and Other Specialized Applications
The New EK-3000SC EagleEye™ Deluxe is a compliant and hands-free UV-A / White Light LED Inspection Lamp Kit. Ideal for fluorescent magnetic particle and penetrant testing, pipeline inspections, ship hull inspections, and any environment that requires a portable, hands-free inspection. Place on hardhat or onto Magnetic Particle Spray can. Makes MPI a One-Person Job!
Features
Compact, lightweight lamp with two UV-A LEDs for NDT
Fully compliant to ASTM E3022-15 and meets ISO 3059 specifications
Comes with a serialized Certificate of Conformance
Additional white light assembly for general illumination
Integral blacklight filter minimizes violet hue
Upgraded long-lasting LED lenses virtually eliminate clouding (solarizing) of the lenses
Adjustable strap allows lamp to be worn on hard hat or directly on head for hands-free operation
Unique lamp mount/sprayer attachment permits lamp and spray can to be mounted together for convenient, single-handed fluorescent yoke inspection
Built-in fan keeps lamp cool to maintain optimum UV-A intensity during extended use
Upgraded splash guard with integral particulate filter protects UV lenses and cooling fan from damage
Powered by a rechargeable lithium-ion battery (included)
Provides up to 90 minutes of continuous inspection between charges
Item No. UV-093015
More from Packaging Products & Equipment