Eagle Eye Power Solutions Exhibits at The Battery Show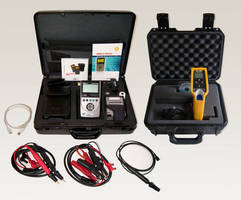 Battery Testing Solutions Company, Eagle Eye Power Solutions (EEPS) will be exhibiting at The Battery Show 2011, October 25-27th in Detroit, MI, showcasing our four main product series. From our portable battery testers (IBEX-Series), Digital Hydrometers/Density Meters (SG-Series), AC/DC Load Banks (LB-Series), and battery monitoring systems (IB-Watch Series), Eagle Eye Power Solutions has a complete and cost-effective solution to fit your battery testing needs! These IEEE NERC certified products are guaranteed to not only meet, but exceed your battery testing requirements. Be sure to stop by our booth B490 to see our comprehensive products and services! For more information on Eagle Eye Power Solutions please visit www.eepowersolutions.com or call 1-414-962-EEPS (3377).

Eagle Eye Power Solutions is committed to offering the BEST battery testing products, education, training, and support services to our customers. 100% customer satisfaction is the company's signature guarantee and the foundation upon which the company is built.

The IBEX-Series is the only line of diagnostic battery testers available in the market that measure the accurate internal ohmic Resistance (R) or Conductance (Siemens), Strap Resistance, Jar Voltage (V), Jar Temperature (°C/°F), DC Current & Ripple Current (with ULTRA) utilizing the world's first patented ripple-removing algorithm.

Our SG-Series digital hydrometers / density meters maximize any specific gravity and density testing requirements. This three-model series includes data-logging and non-data logging hydrometers. All of our Digital Hydrometers allow the user to test and record the temperature compensated specific gravity of batteries quickly and safely with a 99.999% accuracy rate.

Eagle Eye's Load Bank Series tests 24-240VDC power units by applying a load up to 300 amps, and come in a compact portable case for ease of use. Custom options are also available for specialized discharge testing needs. With easy to transfer data, our analyzing software makes it simple to see the discharging values of each cell. The LB-Series is your smart, safe, and environmentally-friendly load bank.

Eagle Eye's IBwatch-Series is the industry leader in reliability for monitoring and diagnosis of all stationary applications. The IBwatch-Series is easy to install, precise, reliable, affordable, and has no ill-affect on the system. All units come complete with assembled installation materials & comprehensive software that allows user programmable settings for a customizable approach to your 24/7 battery monitoring management.

Eagle Eye Power Solutions works to ensure every employee and representative of our company is properly trained to understand our products and our core values. From the initial contact with the customer, through the education & sales process and continuing with post-sales support - we are there for our customers every step of the way! At EEPS we focus on building long-term, mutually beneficial relationships ("lifetime customers"). We always encourage customer feedback regarding ways that we can improve our products and support to better fit our customer's needs.


More from Sensors, Monitors & Transducers