E-Commerce Software integrates into existing websites.
Press Release Summary: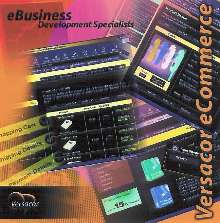 Web site eCommerce Tool lets manufacturers independently manage sales activities. It allows processing of payments by credit card, check, or purchase order, and can be tailored to meet other requirements such as requests for price quotes. Featuring password protected administrative section, users can add, delete, and manage products, view and process orders, export data to accounting packages, and obtain sales reports.
---
Original Press Release:

Manufacturers' E-Commerce Tool Eliminates Dependence on Web Developer


A new e-commerce tool that can be integrated into an existing or new Web site and lets manufacturers manage their own products and sales activities is being introduced by Versacor, Inc. of Worcester, Massachusetts.

The Versacor eCommerce Tool integrates seamlessly into any Web site and allows the processing of payments by credit card, check, or purchase order, and can be tailored to meet other special requirements such as requests for price quotes. Featuring a password protected administrative section, users can add, delete, and manage their own products, view and process orders, export data to accounting packages and obtain comprehensive sales reports.

Eliminating the need for manufacturers to have their eCommerce site managed by their Web developer, the Versacor eCommerce Tool's key features include: unlimited products, sales tax and shipping calculations, customer specific pricing plans, quantity discounting, promotions, cross-selling, save your shopping cart, mass e-mail, tell-a-friend-e-mail, advanced search, and more. A special store can be setup exclusively for distributor relationships.

The Versacor eCommerce Tool is priced from $3,499.00, depending upon special customer requirements and installation is typically within 5 weeks.

For more information contact:
Versacor, Inc.
Eric Tucker, Marketing Director
340 Main St., Suite 560
Worcester, MA 01608
(800) 248-0939 FAX (508) 757-9583
e-mail: info@versacor.com
www.versacor.com

More from Packaging Products & Equipment