Dynapar Introduces Hollow Shaft Encoder for Elevator Geared Traction Drives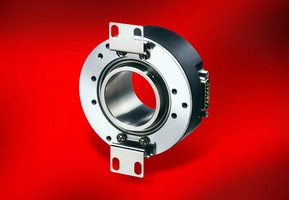 Gurnee, IL - September 19th, 2007 -- Dynapar announces a new incremental encoder, purpose-built for geared traction drives in elevator applications, the RI80-E. The new encoder incorporates multiple design features that make it extremely reliable and ideal for elevator environments. The RI80-E is built on Dynapar's new incremental encoder technology utilizing a custom ASIC, previously only used on absolute encoders. It is the first incremental encoder offered by Dynapar to offer remote diagnostics capability, enabling service technicians to do preventive maintenance on elevators.

The RI80-E's hollow shaft accepts shaft sizes from 30 to 45mm and custom bores are available. Keyed shaft, setscrew, and special clamping ring all with electrical isolation are offered as shaft mounting options. The encoder offers standard resolutions including 1024, 2048, and 4096 PPR that cover the majority of geared traction drive feedback requirements. Other resolutions are available upon request.

Extraordinary Reliability

When designing the RI80-E for elevator duty, reliability was a key concern. Many electro-mechanical devices including encoders are put through accelerated life testing to help determine reliability. One such test is performed by TUV called HALT, or Highly Accelerated Life Test. In this test, the devices are tested to failure. The evaluation includes testing for vibration, temperature cycling, and humidity in order to determine weak points of mechanical design or electrical components. The RI80-E, however, never failed when put through HALT testing which simulated 20 years of use.

To achieve this exceptional reliability, the RI80-E encoder was designed with extremely oversized bearings, including an integral shoulder that increases the spacing between the bearings, allowing for higher loading. Unlike some other encoders - where the bearings are commonly glued into place - the RI80-E uses this mechanical shoulder to help prevent the encoder from being pushed out of alignment by mechanical forces. As a result, the encoder is highly tolerant of overloading and misalignment. Encoder failure due to adhesive separation is now eliminated.

In addition, the encoder uses an unbreakable code disk-even at higher resolutions. Eliminating the glass disk from the design further improves the encoder's reliability and resistance to shock and vibration. With the use of the ASIC, most of the electronics are integrated into the chip so fewer discrete components are used on the PCB. This reduces manufacturing costs, increases reliability, and decreases susceptibility to EMI. The encoder also offers short circuit and reverse polarity protection, standard when the 5-30VDC universal voltage input is chosen.

Exclusive Diagnostics Capability

Unlike nearly all incremental encoders which typically offer only alarms for a failed channel, the RI80-E encoder offers alarm output for a variety of failure modes. This allows a controller to monitor encoder health, and notify the operator when a problem arises. An encoder that can "tell you when it hurts" can be invaluable to elevator service techs when troubleshooting a problem. The alarm will trigger when any of the following alarm conditions exist:

o Temperature - warns when temperature limits are exceeded.
o Phase Amplitude Line Count - warns of mechanical overload, pollution or condensation on the optics.
o LED Current - warns of LED aging, pollution, condensation, over-speed, or disk crash.
o Data Transmission - pulse check count warns of EMI/ESD interference, short circuit, or reverse polarity.

The diagnostic data is stored in the opto-ASIC which is the heart of the encoder. As an added benefit, the alarm only requires a single wire, reducing cabling and installation costs.

Longer LED Life
Another innovative feature regulates the LED current to extend LED life. The LED's brightness is held constant via a closed loop regulator. As the LED ages, or if contaminants are present, more current will be required to keep the light brightness at a constant level. If the current exceeds a maximum level, the alarm activates. Current regulation is critical to extending the life of the LED in an optical encoder, but not all encoders offer this technological advantage.

Adaptive Circuitry
A new exclusive feature not previously offered on incremental encoders is a special output chip that automatically adapts its amplitude and impedance to the type of cabling being used. This means longer cable runs are possible, less expensive cabling can be used, and better signal quality. Better signals can mean improved car ride quality and torque control.

Exclusive Built-in Pulse Check
The RI80-E also performs a check count of the pulses between the zero marker pulses to ensure the encoder is reading position correctly. Normally this function is performed in the controller receiving the encoder signals. However, not all controllers provide this check, so the RI80-E design team built this function into the encoder. No other elevator encoder provides this function.

Unique Shaft Cover Promotes Safety and Saves Time
In addition to reliability innovations, the encoder has the future option of a unique, patent-pending shaft cover that installs with a twist and snap. The plastic shaft cover uses no hardware and can be quickly installed or removed without any tools required. In elevator applications, the shaft cover keeps things like hair, jewelry, and clothing from getting caught in the spinning motor shaft. Safety is a major concern for elevator passengers, and safety for the maintenance tech is no exception.

Price and Availability
The RI80-E encoder is built to order and immediately available for the general market. Dynapar will market the encoder under their Hengstler brand name, and pricing starts around $375. For custom OEM applications, contact a Dynapar representative at 800-873-8731 or visit the web at www.dynapar.com.

More from Electrical Equipment & Systems