Dynamometer measures cutting forces during high-speed milling.
Press Release Summary: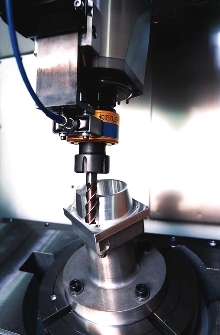 Type 9125 rotating dynamometer measures vertical force and moment about spindle axis at speeds to 25,000 rpm. Digital data measuring signal is transmitted non-contacting between dynamometer and stationary signal receiver/processor. Signal processor contains RS-232C interface allowing for remote control and selection of 3 force measuring ranges (675, 225, 70 lbf). Quartz sensors yield wide dynamic data response with force threshold level of 0.007 lbf and moment of 0.9 lbf-in.
---
Original Press Release:
New Rotating Multi-Component Dynamometer Type 9125 Measures Cutting Forces During Milling at High Speeds
Kistler Instrument Corporation is pleased to announce the release of a new rotating dynamometer that measures cutting forces at the milling cutter during the machining process. The 9125 Dynamometer measures two components, Fz the vertical force and Mz the moment about the spindle axis at speeds up to 25,000 rpm. A digital, data measuring signal is transmitted non-contacting between the rotating dynamometer and a stationary signal receiver/processor. The signal processor contains an RS-232C interface allowing for remote control and selection of three force measuring ranges (675, 225 & 70 lbf) and three moment ranges (445, 180, & 90 lbf-in). The high rigidity of the quartz sensors used in the dynamometer yield a wide dynamic data response with a force threshold level of 0.007 lbf and moment of 0.9 lbf-in. Weighing in at 3.3 lbs, the 9251 dynamometer is carefully balanced so not to produce a load on the spindle more than a normal tool. The internal design is such that coolant flow through the dynamometer is not obstructed. The 9125 Dynamometer is ideally suited for high speed milling and boring where the monitoring of cutting forces during the machining process is critical due to expensive nature of the tools or the work piece. Kistler is a worldwide supplier of precision instrumentation for the measurement of pressure, force and acceleration serving the R&D, Industrial and OEM Communities. providing innovative solutions through measurement and analysis Kistler Instrument Corp.
75 John Glenn Drive
Amherst, NY 14228-2171
Tel 716-691-5100
Fax 716-691-5226
www.kistler.com
info.us@kistler.com
ISO 9001
Certified Quality System ronald.lochocki@kistler.com
More from Fluid & Gas Flow Equipment