Dynamic CMOS Flat X-Ray Detectors come in 6, 9 and 12 in. models.
Press Release Summary: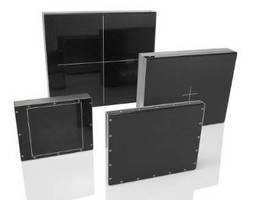 With fields-of-view of 20 x 22 cm, 22 x 22 cm, and 30 x 30 cm, Xineos™ 2222HS, 3030HS, 2022HR, and 3030HR utilize radiation-hard CMOS active pixel design. Products offer switchable saturation dose as well as built-in gain, offset, and defect correction. While high-speed Xineos-HS models have 152 µm pixel size and offer real-time imaging in full resolution up to 90 fps, Xineos-HR detectors have 99 µm pixel size and support 30 fps real-time imaging at full resolution of up to 5 or 9 MP.
---
Original Press Release:

Teledyne DALSA Completes Dynamic CMOS Flat X-Ray Portfolio with 6, 9 and 12 Inch Detectors



Xineos™ radiation-hard detectors with improved dose performance and extended dynamic range to be featured at RSNA 2014



WATERLOO, Ontario – Teledyne DALSA, a Teledyne Technologies company and global leader in digital X-Ray image sensing technology, will introduce four new dynamic detectors at the RSNA 2014 Technical Exhibition, November 30 to December 4, 2014, at McCormick Place in Chicago.  The latest products with fields-of-view of 20x22 cm, 22x22 cm and 30x30 cm, together with earlier models with dimensions of 13x13 cm and 15x15 cm, complete the Xineos family of real-time, low dose CMOS flat X-Ray detectors. Xineos detectors are targeted at interventional procedures and are well-positioned to replace the incumbent imaging technology of TFT flat detectors and image intensifiers of up to 12" in size. The entire product line will be on display in South Hall, Booth A4115.



The new Xineos models, including the 2222HS, 3030HS, 2022HR and 3030HR, utilize Teledyne DALSA's sixth generation proprietary radiation-hard CMOS active pixel design and are the industry's first flat detectors to not only surpass the low-dose performance of Image Intensifiers but also combine this industry benchmark with the form factor advantages of traditional amorphous silicon flat panels. Offering switchable saturation dose, low dissipation power and built-in gain, offset and defect correction, Xineos detectors are versatile, reliable and easy to integrate.



The high speed Xineos-HS detectors, featuring 152 micrometre pixel size, are designed to meet the demanding needs of both surgical and cardio vascular procedures by combining high dynamic range with unsurpassed signal-to-noise performance and real-time imaging at the lowest exposure levels in full resolution at up to 90 fps. Additionally, the detectors with square field-of-view of 22x22 cm(2) are the largest commercially available 9" flat detectors to benefit spinal surgery.



Xineos-HR is the high resolution line of detectors, featuring pixel size of 99 micrometres, designed to meet the versatile needs of clinical, scientific and industrial applications. These detectors are capable of 30 fps real-time imaging at full resolution of up to 5 Mpixels or 9 Mpixels for the 9" or 12" detector sizes, respectively. Flexible zoom modes can be used to capture regions-of-interest at 120 fps or even faster.



"Xineos CMOS detectors enable improvement throughout the entire healthcare chain - in diagnostics, in patient care and in their return on investment," said Dr. Mila Heeman, Senior Marketing Manager at Teledyne DALSA. "Our detectors allow physicians to expand the boundaries of imaging."



Teledyne DALSA will exhibit the following CMOS and CCD X-Ray detectors:



--  Xineos-1313 and Xineos CMOS flat detectors deliver low dose diagnostic image quality at full resolution and in real time. There are two versions - high dynamic range and high sensitivity.

--  Xineos-1515 - featuring seamless switchable saturation dose for combining high dynamic range and high sensitivity in a single device.

--  Argus - scanning CCD-TDI X-Ray detector platform for mammography, general radiography and dental panoramic and cephalometry applications.

--  Helios - optimized for mobile applications, Helios features a large CMOS active imaging area of 20x25 cm(2) (8"x10") while maintaining superb image resolution with a pixel size of only 96 micrometres.

--  Shad-o-Box 6K HS - a high resolution CMOS detector with 50  m pixel pitch and dimensions of 11x14 cm targeted at biopsy analysis, and other scientific and industrial applications.

--  Rad-icon 1520 - new high resolution large area CMOS detector featuring high speed low dose seamless switchable saturation dose and 99 micrometre pixel in 15x20 cm dimensions.



Where: RSNA 2014

McCormick Place

Chicago, Illinois, USA

South Hall, Booth A4115



When: November 30 -December 4, 2014



Media Note: For additional information, watch our X-Ray Imaging video. Images and additional information can be found in our media kit.



About Teledyne DALSA's Life Sciences Products and Services

Teledyne DALSA provides state-of-the-art image sensing, capture and processing solutions to medical, dental and scientific equipment manufacturers. Building on more than 30 years of proven capability and innovation, our team of imaging specialists delivers leading-edge product design. Our manufacturing processes are tailored to comply with the stringent quality, reliability and traceability requirements of the medical and scientific X-Ray community. For more information, visit www.teledynedalsa.com/xray.



About Teledyne DALSA, Inc.

Teledyne DALSA, a Teledyne Technologies company, is an international leader in high performance digital imaging and semiconductors with more than 1,000 employees worldwide, and is headquartered in Waterloo, Canada. Established in 1980, the company designs, develops, manufactures and markets digital imaging products and solutions, in addition to providing MEMS products and services. For more information, please visit www.teledynedalsa.com.



All trademarks are registered by their respective companies.



Teledyne DALSA reserves the right to make changes at any time without notice.



CONTACT:

Media Contact:

Geralyn Miller

Teledyne DALSA

Tel: +1-519-886-6001 ext. 2187

Email: geralyn.miller@teledynedalsa.com

Sales Contact: sales.sensors@teledynedalsa.com

More from Communication Systems & Equipment