Dynamic Analyzer plugs into notebook or palm PC.
Press Release Summary: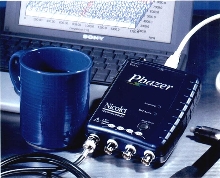 Handheld Phazer plugs into USB port of PC to provide real-time analysis of noise and vibration, modal and acoustic analysis, and servo systems. It has 2 to 4 channels with 18-bit A/D converter on each channel. Analyzer provides dynamic range of 110 dB on all channels, prevents aliasing with analog and digital filters, and has 3,600 spectral lines of resolution. Optional zoom capability provides precision to 0.002 Hz across 21 kHz measurement range.
---
Original Press Release:
Phazer - The Handheld Dynamic Analyzer

A high-performance, 2-4 channel Dynamic Analyzer that weighs only 8 ounces!

Madison, WI - Nicolet Technologies, a pioneer in the development of signal analysis instrumentation, announces the latest in a series of Dynamic Signal Analyzer products, the Phazer. Weighing in at only 8 ounces, the ultra-portable Phazer makes any USB equipped computer an instrument-quality, real-time analyzer. Designed to address applications such as noise and vibration, modal and acoustic analysis, servo systems and more, Phazer offers unsurpassed performance in spite of its diminutive size.

Featuring instrument quality, 18-bit Analog to Digital Converters per channel, Phazer offers a typical dynamic range of 110dB on all channels. Aliasing, a concern in digital systems, is prevented through use of a combination of analog and steep (160dB per octave) digital filters. Phazer's 3600 spectral lines of resolution combined with the optional zoom capability enable precision to 0.002 Hz across the entire 21 kHz measurement range.

Phazer is fully compliant with USB 1.0 and 1.1 specifications and receives its power from the USB port - no external power supply is required. Combined with a battery operated notebook or palmtop PC, the handheld Phazer provides the ultimate in portability.

All signal processing is performed by the DSP embedded within the Phazer relieving the PC from the burden of real-time processing. Additionally, true multitaskinig allows the PC to deliver maximum graphics performance even while Windows is performing other tasks.

Phazer features the Nicolet Prism Spectral Library, powerful enough to tackle any dynamics application. Prism supports 2-D and 3-D data presentations including FFT, PSD, Transfer Functions, Histograms, Octave Analysis, Waterfall Plots and Spectrograms. Prism's one-click reporting tool creates custom reports directly into Microsoft® Word. Optional modules support modal analysis, rotating machinery analysis and acoustic analysis as well as long duration direct to disk recording.

In addition to Phazer, Nicolet offers a wide range of dynamic analyzers offering expanded performance and channel count. All units share the Prism Spectral Library software for complete data interchange between systems.

Nicolet Technologies develops, manufactures, and markets state-of-the-art electronic instrumentation used in a broad range of automotive, power, aerospace, and a variety of other research applications. US prices begin at $6,500 for a 2-channel Phazer and $9500 for a 4-channel system. Delivery is 4 weeks ARO. Nicolet Technologies, 5225-4 Verona Rd, Madison, WI, 53711, 608/276-5600

More from Architectural & Civil Engineering Products