Dymax to Introduce New Small-Gauge Needle Bonding Adhesive at MD&M East 2017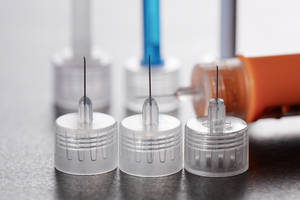 Torrington, Connecticut – June 2, 2017 - Dymax Corporation, a leading supplier of adhesives to the disposable medical device industry, will exhibit in Booth #1357 at MD&M East, scheduled to take place June 13-15, 2017 at the Jacob Javits Convention Center in New York. Their newest products and technologies – including MD® 1406-M, a next generation needle bonding adhesive – will be featured.
1406-M provides excellent bonding performance on the reduced surface area of smaller cannulas, even after aging and sterilization, to reduce the possibility of cannula substrate failure. Optimized for 385nm LED curing, 1406-M allows for tighter standard deviations and enables small gauge needle manufacturers to enjoy the benefits of LED curing without sacrificing speed or cured mechanical properties.
The Dymax team will also demonstrate LED-optimized catheter adhesives for rapid bonding to a variety of substrates including Nylon 12 and PEBA. Formulated with Encompass™ technology, these products provide secure bonds with the added benefits of easy cure confirmation and post-cure bond-line inspection.
Dymax adhesive solutions will be cured with the BlueWave® LED Flood curing unit and the MX-150® high-intensity LED spot-curing system. Demonstration videos can be viewed at http://dymax.com/resources/videos. Follow Dymax on Twitter to find out how to receive a FREE hall admission.
Dymax Corporation develops innovative oligomer, adhesive, coating, dispensing, and light-curing systems for applications in a wide range of markets. The company's products are perfectly matched to work seamlessly with each other, providing design engineers with tools to dramatically improve manufacturing efficiency and reduce costs. Major markets include aerospace, appliance, automotive, electronics, industrial, medical device, and metal finishing.
For additional information, visit www.dymax.com or contact Dymax Application Engineering at info@dymax.com or 860-482-1010.
Contact:
Nermine Abdel-Hakim
Marketing Communications Specialist
Dymax Corporation
(860) 482-1010