Dymax SpeedMask Masking Resins to be Showcased at MRO Europe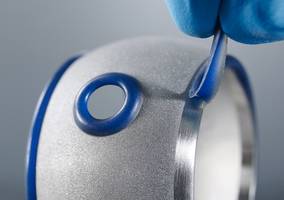 Torrington, Connecticut – August 28, 2017 - Dymax Corporation will showcase SpeedMask® line of masking resins in Booth # 2021 at MRO Europe, scheduled to take place October 3-5, 2017 at ExCel, London- UK. Attendees will get the chance to discover how SpeedMask solvent free light-curable maskants replace tapes, waxes, lacquers and fixtures, while offering reliable protection against most metal-finishing process environments.
SpeedMask resins can be sprayed, dipped or brushed, making them ideal for complex shaped parts. After applying a single coat and curing it on demand, parts become available immediately. They are formulated to provide excellent surface protection during aggressive chemical exposures and thermal processes such as sulfuric acid exposure, plasma spray, some HVOF processes, and aggressive grit blasting. Upon completion of the surface treatment process, the cured resins are designed to be cleanly removed by either incineration or peeling.
Dymax application engineers will be on hand to demonstrate SpeedMask electronic peelable and LED-curable masking resins being cured with the Dymax BlueWave® spot and flood curing lamps. Follow Dymax on Twitter to find out how to receive FREE show admission.
Dymax Corporation develops innovative oligomer, adhesive, coating, dispensing, and light-curing systems for applications in a wide range of markets. The company's products are perfectly matched to work seamlessly with each other, providing design engineers with tools to dramatically improve manufacturing efficiency and reduce costs. Major markets include aerospace, appliance, automotive, electronics, industrial, medical device, and metal finishing.
For additional information, visit www.dymax.com or contact Dymax Application Engineering at [email protected] or 860-482-1010.