Dymax Light-Curable Adhesives Formulated with Encompass™ Technology to be Showcased at MD&M West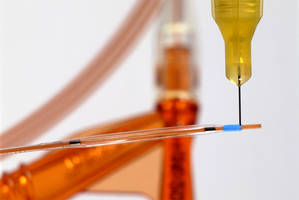 Torrington, Connecticut – January 16, 2017 - Dymax Corporation, a leading manufacturer of adhesives to the disposable medical device industry, will exhibit in Booth #2159 at MD&M West, scheduled to take place February 5-8, 2018 at the Anaheim Convention Center in Anaheim, CA. Their newest products and technologies – including solvent free, USP Class VI, and ISO 10993 biocompatible light-curable MD® 215 Adhesives family formulated with new Encompass® technology – will be featured.
LED-curable at either 385 nm or 405 nm, the Dymax 215-CTH-UR-SC family of products is ideal for fast bonding of difficult to bond plastic substrates typically used in specialty catheter devices; allowing manufacturers to enjoy the benefits of LED curing without sacrificing speed or cured mechanical properties. Available in multiple viscosity grades to fit a variety of application designs, this adhesives family features our unique Encompass® technology, which provides visual cure confirmation through Dymax See-Cure and this Ultra-Red® fluorescing technologies.
Dymax adhesive solutions will be cured with the BlueWave® LED Flood curing unit and the MX-150® high-intensity LED spot-curing system. Demonstration videos can be viewed at http://dymax.com/resources/videos
Dymax Corporation develops innovative oligomer, adhesive, coating, dispensing, and light-curing systems for applications in a wide range of markets. The company's products are perfectly matched to work seamlessly with each other, providing design engineers with tools to dramatically improve manufacturing efficiency and reduce costs. Major markets include aerospace, appliance, automotive, electronics, industrial, medical device, and metal finishing.