Dymax Case Study - Streamlight Flashlight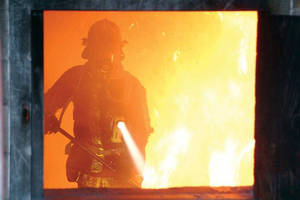 Torrington, CT - DYMAX Corporation helps Streamlight® Inc., a leading manufacturer of premium portable lighting, ruggedize safety flashlights used by firefighters, police officers, and military troops in the field.

When Streamlight Inc. developed their High-Intensity Discharge LiteBox® and Survivor® series flashlights, they were looking for a way to ruggedize the lens and reflector housings by applying a sealant to bond the subassembly together. Streamlight engineers needed the flashlights to withstand rough handling and extreme conditions in the field, and to work in a wide range of environments, such as search-and-rescue or life-threatening situations. To bond the glass lens to the reflector housing, DYMAX recommended their Multi-Cure® 621-T adhesive because of its ability to adhere dissimilar materials, its fast cure, and excellent adhesion properties.

To bond the subassembly, the lens and reflector housing were placed into a small rotary system underneath a dispensing valve and 621-T was applied in a uniform bead into the bond line. The parts were assembled and then exposed to UV/visible light under a DYMAX 2000-EC flood lamp. Rapid cure allowed the bonded parts to move onto the next step in the manufacturing process.

DYMAX Corporation is a leading technology-based company specializing in the formulation, manufacture, and service of advanced assembly adhesives, coatings, epoxies, masking resins, and light-curing systems.

For more information and application assistance, contact

DYMAX Corp.,

318 Industrial Lane,

Torrington,

CT 06790;

Phone: 860-482-1010;

Toll Free: 1-877-DYMAX-UV (1-877-396-2988);

e-mail: info@dymax.com or

visit our website at www.dymax.com.

More from Material Processing