Dust Test Kit offers reports for blast cleaned surfaces.
Press Release Summary: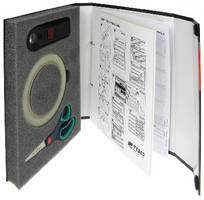 Used for inspecting pre-treatment quality during protective coating jobs, SP3200 kit assesses quantity and size of dust particles on blast-cleaned surfaces prior to painting according to ISO8502-3 standard. Ergonomic solution contains all required tools, such as specified adhesive tape, pictorial standard to define dust quantity and size, illuminated magnifier, scissors, tape-transfer sheet, and set of report forms for permanent record keeping of sample findings.
---
Original Press Release:

New Dust Test Kit for Blast Cleaned Surfaces



Loose particles on blast cleaned surfaces will reduce coating adhesion, leading to premature coating failure.

For inspection the pre-treatment quality during protective coating jobs as for example described in IMO-PSPC MSC.215(82) TQC has developed the SP3200 dust test kit.

An ergonomic test kit to assess the quantity and size of dust particles on blast cleaned surfaces prior to painting following the ISO8502-3 standard. An adhesive tape is applied under specified conditions on the blasted surface picking up any residue of dust or blasting media when removed.

The kit contains all required tools to perform the test such as specified adhesive tape, a pictorial standard to define dust quantity and size, an illuminated magnifier, scissors, a tape-transfer sheet and a set of report forms for permanent record keeping of sample findings.

Since these test has to be made on-site in often harsh conditions the kit has been designed in such a way that all separate items fit inside a special binder-case and are secured in place when not in use.

The report forms also offers facilities to note other relevant parameters during pre-treatment inspection such as condensation / dew point, roughness, salt contamination and visual cleanliness. An optional spring loaded roller is available to perform the test as described in ISO8502-3 par. 5.3 to ensure reproducible force on the test tape.

For more information contact:
TQC.bv, The Netherlands
Info@tqc.eu
www.tqc.eu
Tel. +31 180 631344

More from Agricultural & Farming Products