Dust Recovery Hood captures and returns airborne particles.
Press Release Summary: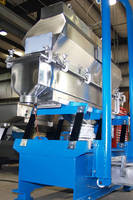 Designed for vibrating fluid bed dryers and coolers, Dust Recovery Hood allows on-spec particles entrained in airstream to be captured and gently returned into process for recovery as finished product. Unit features expanding, tapered profile that minimizes airflow velocity as process air rises. Constructed from stainless steel or carbon steel, hood is suited for drying foods, chemicals, pharmaceuticals, aggregates, plastics, wood products, and other products where waste is to be avoided.
---
Original Press Release:

New Dust Recovery Hood Captures Airborne Particles and Returns to Process for Recycling as Finished Product



Engineering Advance from The Witte Co. Cuts Waste, Saves Energy, Boosts Product Output

Washington, NJ: A new dust recovery hood for vibrating fluid bed dryers and coolers from process equipment manufacturer The Witte Co., Washington, New Jersey (www.witte.com), features a proprietary design that allows on-spec particles entrained in the airstream to be captured and gently returned into the process for recovery as finished product. Engineered with an expanding, tapered profile that reduces the airflow velocity as the process air rises, the Witte dust recovery hood cuts the volume of product lost as waste, boosts the ratio of finished product at discharge per unit of input and supports dust control efforts while reducing the size of the unit required to achieve the desired temperature and moisture content. Undersized fine particles entrained in the airstream that need not be recovered for recycling may be collected using a dust collector.

Developed for drying foods, chemicals, pharmaceuticals, aggregates, plastics, wood products and other valuable products where unnecessary waste is to be avoided, the Witte dust recovery hood is manufactured at the company's New Jersey headquarters from stainless steel for food product contact or from carbon steel as appropriate based on the product requirements. The new dust recovery hood is available on the company's entire line of vibrating fluid bed dryers and coolers and may be suitable for retrofit on Witte fluidized bed dryers and coolers in the field.

For more information, contact Larry Stoma, the Witte Company, Inc.; 507 Rt. 31 South, Washington, NJ, 07882; 908-689-6500; Fax 908-537-6806; LarryStoma@witte.com; www.witte.com

Related