Dust Collectors help counter airborne dust particle threats.
Press Release Summary: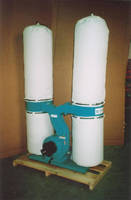 Running on electricity, Dust Collection Systems feature intelligently arranged vertical filter media system. Cross sectional shape consists of multi-pointed star which maximizes filter surface area. Model 15-10481, operating at 0.75 kW power, extracts dust at 330 Lps, while 1.5 kW Model 15-13481 exhausts dust at 560 Lps. Operating on 415 V motor, Model No. 15-16483 achieves rates up to 1,250 Lps. Systems can be moved to different areas of warehouse as needed.
---
Original Press Release:

Dust Collected to Reduce Airborne Dangers in Engineering and Manufacturing Premises



Dust in the workplace has for so long been responsible for respiratory diseases encompassing everything from colds and asthma to cancer and silicosis.



To help counter any threat from air borne dust particles, whether in dense quantities or hard-to-spot sparse concentration, air movement specialist Fanquip has released a new series of dust collection equipment - technology with an intelligently arranged vertical filter media system.



Running on the clean power of electricity, the units can be moved to different areas of a warehouse or compound to be put in use where and when they are needed.



The most distinct technological and competitive advantage of these high quality dust collectors is their filter cartridges – both the arrangement and the cross sectional shape.



In most equipment of this type, filter cartridges are mounted horizontally, which, when pulsed for cleaning, would simply see the dust from the upper media cartridges fall onto the filter media of the cartridges below it, hence clogging its own operating system.



Unlike the vast majority of dust collectors on the international market, Fanquip dust collector filter medium does not have a simple, circular cross section. Its cross sectional shape is one of a multi-pointed star which provides a greater filter surface area by about 100%.



Available in four different sizes, exhaust outputs of the Fanquip dust collectors can be up to 1,250 litres per second of exhausting capacity.



Model No. 15-10481 operates at 0.75 kilowatt power and achieves rotor movement at 2,800 rpm. The 240- Volt unit is capable of extracting dust at a rate of 330 litres per second.



The 1.5 kilowatt Model No. 15-13481 is a very good medium- to heavy-use unit capable of a revolution rate of 2,800 rpm. The 240 Volt model can exhaust dust at a rate of 560 litres per second.



Of the Fanquip dust collector range, highest capacity exhausting power is gained from the Model No. 15-16483, which can achieve rates up to 1,250 litres per second. Operating on a 415V motor, this unit has a revolution speed of 2,880 rpm.



Depending on the requirement or application, various attachments are available to extend the use of the dust collectors. These include extension hoses, junctions, blast gates, exhaust hoods and floor sweeps.



For more information, please contact, Fanquip. 1800 224 308.

More from Computer Hardware & Peripherals