Dust Collector keeps personnel out.
Press Release Summary: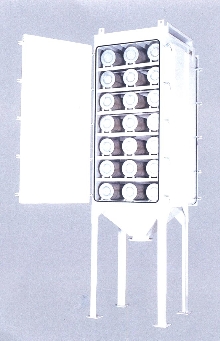 Modu-Kleen(R) downdraft dust collector contains fugitive dust. Air enters at top of collector housing and flows downward to cartridge filters, improving filtering process and material-to-air ratio. Cartridge filters are horizontal, requiring little floor space and making filter removal easier. Personnel never have to enter filter housing for maintenance or cartridge filter removal. Large door allows personnel to inspect each cartridge when required.
---
Original Press Release:
Modu-Kleen(R) Downdraft Series Dust Collector

The Modu-Kleen(R) downdraft dust collector represents the latest dust collector technology developed by Dynamic Air to contain fugitive dust. With the new Modu-Kleen downdraft dust collector, the air enters at the top of the dust collector housing and flows downward to the cartridge filters, improving the filtering process and the material-to-air ratio. Air velocities are much lower than those with a conventional dust collector, reducing the load on each filter cartridge and extending filter life. Cartridge filters are positioned horizontally, requiring less floor space and making filter removal easier. Personnel never have to enter the filter housing for general maintenance or for cartridge filter removal. This provides a much safer and quicker method of filter removal. For fast and easy inspections, a large, quick-opening door allows maintenance personnel to closely inspect each cartridge when required. In addition, any single cartridge can be removed without disturbing adjacent cartridges. Also, each cartridge filter has a unique built-in quarter turn bayonet mount, so no tools of any kind are required for cartridge removal.

Dynamic Air Inc.
St. Paul, MN
(651) 484-2900
e-mail: info@dynamicair.com
www.dynamicair.com

DYNAMIC AIR INC. - 1125 WILLOW LAKE BOULEVARD - ST PAUL, MINNESOTA - USA - 55110-5103 PHONE (651) 484-2900 FAX (651) 484-7015 www.DYNAMICAIR.COM

Related