Dust Collector and Guard maximize safety and productivity.
Press Release Summary: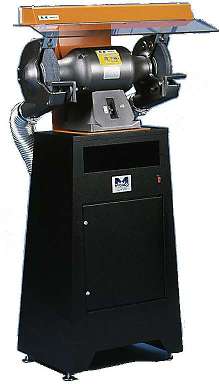 Products minimize hazards, debris, and liability risk associated with bench and pedestal, 5-12 in. dia grinders and buffers. GRIT-GRABBER(TM), combination dust collector and pedestal, utilizes sealed bearing motor and 1210 cfm rated blower to capture debris in collection filter. Equipped with full length light and constructed of bullet-resistant polycarbonate, GRINDER GUARD(TM) mounts underneath grinder's base to eliminate ability of operator to remove grinder.
---
Original Press Release:

MIDACO'S New Grinder Guard And Grit Grabber Dust Collector Maximizes Safety and Productivity at Grinders and Buffers


MIDACO CORPORATION of Elk Grove Village, Illinois USA is pleased to announce new innovations for grinder and buffer safety and productivity. Today's competitive marketplace is causing companies to implement ways to, not only, improve operator efficiency, but, also control the high cost of employee injury and accident liability risk. MIDACO's new safety solutions can help.

The GRINDER GUARD® and GRIT-GRABBER(TM) Dust Collection System are designed to minimize the hazards, debris and liability risk associated with bench and pedestal 5" to 12" diameter grinders and buffers. The GRIT-GRABBER is a combination dust collector and pedestal that combines a heavy-duty, sealed bearing motor and a 1210 CFM rated blower to quietly capture the debris in an easily replaced or cleaned collection filter. Because the dust is collected in the compact pedestal, right at the source performance is optimized.

The GRINDER GUARD has a tamper resistant shield and a design that mounts underneath the base of the grinder to eliminate to ability for the operator to remove it-therefore increase the protection for both the operator and the employer. The full length light and bullet resistant polycarbonate shield maximize both operator safety and visibility. Complete systems with BALDOR Grinders are also available.

Visit MIDACO's at our website at www.MIDACO-CORP.COM to see "what's new or call MIDACO at 847.593.8420 for further information.