Duplex Strainer suits continuous flow applications.
Press Release Summary: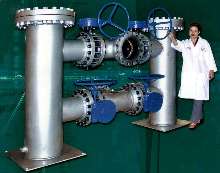 Model 950 Fabricated Duplex Pipeline Strainer continuously removes particulate matter from ½" down to 45 microns. Manufactured in carbon or stainless steel for 2-36 in. pipeline, it may be modified to unique applications' requirements. Valve assembly links 2 strainer element chambers, and operating valves diverts flow from one chamber to other without flow being shut down. Automatic operation is possible via addition of electric/pneumatic valve actuators.
---
Original Press Release:

Custom Fabricated Duplex Strainers for Continuous Flow, No-Shut-Down Applications


The Hayward Model 950 Fabricated Duplex Pipeline Strainer can be easily adapted to meet the requirements of the most involved, complex applications in the Chemical, Petrochemical, Pharmaceutical, Automotive, Inks, Paints, Coatings, Water and Waste Water Treatment Industries among others.

This fabricated strainer removes damage causing particulate matte sized from ½" down to 45 microns continuously; the system flow never has to be shut down for strainer element cleaning. And because it is fabricated, as opposed to being made from a casting, it's easy and cost effective to modify the Model 950 to suit an applications exact requirements...inlet/outlet placement and location, physical size, different cover types for the strainer elemen chambers, automatic operation steam jacketing are the most common modifications.

Manufactured in either carbon or stainless steel, for pipeline 2" to 36" in size, the Model 950 Pipeline Strainers feature a very large strainer element free area ratio for excellent flow characteristics and a low start up pressure drop. A valve assembly links the two strainer element chambers. Operating the valves (ball or butterfly) diverts the flow from one chamber to the other without the flow ever being shut down. This allows the out of service chamber to be opened and the strainer element cleaned. Quick opening, hinged covers are available for applications that require frequent basket cleaning, swing bolt covers are also available.

For more complex applications that require automatic operation the strainers can be fitted with electric or pneumatic actuators to operate the valves. It is even possible to install a pressure differential gauge and switch, so that when one strainer element is in need of cleaning the strainer automatically switches to the clean element and signals the system operator.

Strainer element cleaning can be automated as well with the installation of a piping connection, with a valve, at the bottom of the Model 950's body that connects to the bottom of the strainer element. With this set up it's possible to backwash and/or back flush to clean the element, eliminating the need to open the cover and remove it for cleaning

For more information, contact Don Treslar, Hayward Industrial Products, Inc., 900 Fairmont Ave., Elizabeth, NJ 07207. Phone: 908-351-5400 Ext. 2213. Fax: 908-351-7893. E-mail: industrial@haywardnet.com. Website: www.haywardindustrial.com

More from Sensors, Monitors & Transducers