Duperon® Perforated Plate with Hydropression(TM) Technology on Display at WEFTEC 2011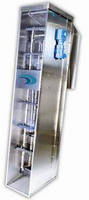 Through the cleaning power of Hydropression(TM), Duperon® is able to effectively clear a static screen while utilizing patented FlexLink(TM) technology. See a full-size unit at WEFTEC 2011 in Los Angeles, California, Booth #829.

Through more than 3 million cycles, Hydropression(TM) has proven to be a simple solution against industry-wide issues such as blinding, stapling, clogging, extruding, and leaking.

Duperon® is the leader in preliminary liquids/solids separation technologies and provides technologies for coarse screening, fine screening, low flow screening, ultra screening, washing compacting and conveying. Duperon® technologies are designed and manufactured in Saginaw, Michigan.

More from Electronic Components & Devices