Ductless Fume Hoods suit laboratory environments.
Press Release Summary: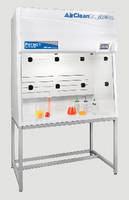 Using bonded carbon filtration, Patriot(TM) Ductless Fume Hoods capture fumes, vapors, and gases, and can be placed virtually anywhere without need to connect to building infrastructure. AirSafe(TM) NXT controller provides touchscreen access to all critical operation and monitoring functions. Constructed of chemical resistant polypropylene, hoods are available in multiple widths, heights, depths, and sash configurations.
---
Original Press Release:

AirClean Systems Supports Wounded Warrior Project While Debuting New Patriot Ductless Fume Hoods at the 244th American Chemical Society Exhibition



RALEIGH, NORTH CAROLINA - AirClean® Systems to support the Wounded Warrior Project while debuting new Patriot(TM) ductless fume hoods at the 244th American Chemical Society Exhibition AirClean Systems, the largest North American developer and manufacturer of ductless fume hoods, is set to debut the new PATRIOT(TM) series of ductless hoods next week at the 244th American Chemical Society (ACS) National Meeting and Exhibition, to be held in Philadelphia, Pennsylvania. In conjunction with this new product launch, AirClean Systems has pledged to make a donation to the Wounded Warrior Project for each conference attendee that visits their booth (#731) and wears an "AirClean Patriot" armband.

"When we were brainstorming how to announce PATRIOT ductless hoods to the scientific community, we kept coming back to the concept of the American Patriot, both historical and modern day," said Kevin McGough, President of AirClean Systems. "As an American company we very much value the sacrifice of our modern day patriots in the military, serving to protect our freedoms at home and abroad. So we decided to tie the PATRIOT launch at ACS to a fundraiser for the Wounded Warrior Project."

The Wounded Warrior Project is a non-profit organization centered around honoring and empowering wounded veterans, raising awareness and enlisting the public's aid for the needs of injured service members. Founded in 2003, the Wounded Warrior Project has evolved into a complete rehabilitative effort that has helped nearly 20,000 veterans transition back to civilian life after receiving life-changing injuries on the battlefield.

"We have small armbands that say 'AirClean Patriot - I Supported Wounded Warriors," continued McGough. "All we're asking ACS attendees to do is to stop by and put on an armband. For each person that picks up an armband, we'll make a $2 donation to Wounded Warriors. We have 2500 armbands and our goal is to make a $5,000 donation at the end of the expo."

PATRIOT ductless fume hoods use bonded carbon filtration to capture fumes, vapors and gases, and can be placed virtually anywhere without the need to connect to building infrastructure. Constructed of chemically resistant polypropylene and featuring the AirSafe(TM) NXT touchscreen controller, PATRIOT provides the versatility and flexibility expected from modern laboratory equipment. Multiple widths, heights, depths and sash configurations are available.

For more information on Patriot Ductless Fume Hoods: http://www.patriotfumehood.com/
For more information on AirClean Systems: http://www.aircleansystems.com/
For more information on the Wounded Warrior Project: http://www.woundedwarriorproject.org/

AirClean Systems

Contact: Brandon Howell

3248 Lake Woodard Drive

Raleigh, NC 27604 USA

Phone: (919) 255-3220

Toll Free: (800) 849-0472

Email: contact@aircleansystems.com

More from Electrical Equipment & Systems